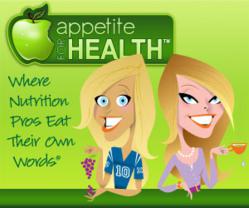 (PRWEB) November 16, 2011
Entertaining this holiday season while trying to keep the pounds from piling on is always a tough task. In this Appetite for Health Segment on NewsWatch, Registered Dietitians Katherine Brooking MS, RD and Julie Upton, MS, RD, discuss some of their favorite healthy, festive dishes that family and friends will love.
Best-Bet Appetizers
Try to infuse veggies into appetizers whether they are being used with dips. A simple way to impress guests is to set up a trio of flavored hummus with veggies and create wonderful appetizers, like tomato tartlets made with gourmet Sunset tomatoes.
Better Mashed Potatoes
Mashed potatoes can be a calorie minefield, if they are made with butter and whole milk. Instead, Appetite for Health recommends replacing butter with a heart-healthier spread like Smart Balance Buttery Sticks. It makes them rich and creamy but without all the calories and saturated fat of butter.
Slimmed-Down Stuffing
Traditional stuffing can pack in more calories than a serving of turkey and mashed potatoes combined. Appetite for Health slims stuffing down by using more onions, celery, apples and dried fruit like prunes and cranberries instead of sausage. And be sure to bake the stuffing outside of the bird to keep it lower in calories and fat.
For more information about Appetite for Health, visit http://www.AppforHealth.com
Appetite for Health (AFH) is a weekly nutrition news series that provides credible, evidence-based nutrition information via its trusted registered dietitian co-hosts, Katherine Brooking and Julie Upton.
Katherine Brooking, MS, RD is a Registered Dietitian with a Master's Degree in Nutrition Education from Columbia University. She is dedicated to helping people achieve better health and richer lives through sound nutrition and healthy lifestyles. She is a frequent nutrition contributor to top-tier national morning shows including the TODAY show, Live with Regis & Kelly, The Early Show on CBS, Good Morning America Health as well as on local affiliate stations across the country.
Julie Upton, MS, RD, CSSD is a registered dietitian and communications expert specializing in nutrition, fitness and health. As a former New York City-based national spokesperson for the American Dietetic Association, Julie is interviewed in hundreds of magazine articles and is a frequent guest on national and local television and radio stations. She has appeared on the NBC Today Show, CBS Evening News, ABC World News Tonight, CNN Headline News, and Fox News Fox & Friends. She has also appeared on MTV, Access Hollywood, E! Entertainment News and Extra to provide expert commentary on Hollywood nutrition fads and trends.
NewsWatch is a weekly 30-minute consumer oriented television show that airs nationwide. NewsWatch regularly feature top celebrities, health tips, technology products, medical breakthroughs and entertainment news on the show. The show airs in 180 markets nationwide as well as all of the top 20 broadcast markets in the country, and is the preferred choice for Satellite Media Tour and Video News Release Distribution. For more information, head to newswatchtv.com
###