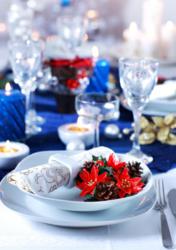 While companies may not be busting the bank with lavish holiday parties, they're certainly not letting a challenging economy dampen their holiday spirit
Austin, TX (PRWEB) November 17, 2011
Catering referral service, LocalCatering.com, recently rolled out a new upgrade to their customer reviews system. The new reviews feature will now allow any previous customer to submit a review for caterers and event vendors on the site, regardless if they are a LocalCatering customer or not. This upgraded feature will provide LocalCatering users with more extensive background information as they compare potential caterers.
The improved customer ratings system has launched just in time for the holiday season. For corporate party planners and event coordinators, the holidays can quickly become a frenzied hustle to get things done. With the current state of the economy, the end of the year becomes even more stressful for those in charge of planning company events. Faced with a strained budget, many companies are having to find new ways to celebrate the season and obtain holiday catering services without breaking the bank.
Despite financial hardships, companies are still planning holiday parties, according to Kofi Addo, Chief Operating Officer at LocalCatering.com. "Businesses are still finding ways to show their appreciation for their employee's year-long hard work," said Addo, "Most executives recognize the importance of year-end parties for company morale and agree that it's worth the investment. Rather than nix celebrations and holiday catering altogether, we're seeing businesses planning smarter for their seasonal get-togethers."
This year, many companies are taking advantage of comparison quote services like LocalCatering.com to find caterers and vendors that best meet their needs and budget. Local Catering, which has thousands of registered caterers and event vendors, allows customers to fill out a simple online form with their event details, and receive up to four quotes from qualified merchants in their area within an hour. The service is free and allows users to compare pricing and packages offered by various caterers in their area.
"While companies may not be busting the bank with lavish holiday parties, they're certainly not letting a challenging economy dampen their holiday spirit. Employees deserve a little fun and appreciation after a tough year, and a little can go a long way in boosting morale and creating a happier workplace environment." added Addo, "Our goal is to make the process of finding a caterer for your holiday event simpler, and with our new reviews system, finding the best fit for your needs will be even easier this season."
###