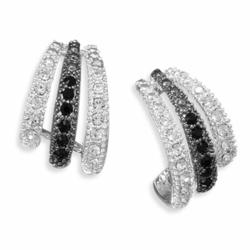 We all love attention and with our new Sterling Silver Earring Collection you'll look incredible, feel incredible, and be the talk of the town, everywhere you go!
Wilmington, De (PRWEB) November 17, 2011
"We are so excited to announce the launch of our Affordable Sterling Silver Jewelry product line and thrilled we're able to sell it in the same price range of our Quality Fashion Jewelry," said director Miranda Matthews. Get ready to shine and sparkle, with a new collection of the best quality, hottest styles and most fashionable Sterling Silver that hit the Internet.
This is huge milestone. Beadedcoutureandmore.com has always been a trend setter and the number one hot spot for high quality boutique style jewelry and fashion accessories. Bringing hot trends to their website before the consumer can catch them anywhere else and carrying a nice selection of quality jewelry that's affordable has always been a main focus. By following the latest fashion trends, paying attention to customer requests, and adding Genuine Sterling Silver Jewelry to the mix, customers can have a well rounded shopping experience.
Why choose Sterling Silver Jewelry over other Quality Fashion Jewelry? It's affordable, fashionable, has unparalleled appeal and is designed from long lasting precious metal. Unlike costume jewelry, sterling silver endures. Jewelry made from Sterling Silver is also timeless and never goes out of style. Top quality sterling silver is crafted to be enjoyed for many years to come and is stamped with a .925. The stamping indicates the highest level of silver available in jewelry. Sterling Silver Jewelry has wearability and is easy to care for. A little buff and polish and is as good as gold. (no pun intended) Just good as new.
The big buzz around the companies "buyers table" is the fashion forward Sterling Silver Earrings. This Collection includes a large selection of trendy, classic and elegant styles. Choose from small delicate designs to the hottest styled dangles, hoops, chandelier earrings and gemstone earrings including the ever popular pearl, cubic zirconia, garnet, amethyst, onyx and turquoise stones.
"We already carry some of the most beautiful Bridal Jewelry you'll find. Our new collection of Sterling Silver Cubic Zirconia Earrings are a welcomed addition," said Matthews. By adding the fire and sparkle of cubic zirconia coupled with genuine sterling silver setting makes a win win situation all the way down the aisle.
Sterling Silver Hoops never go out of style and look great with a wide variety outfits.The hoop collection includes a diverse selection of sterling silver hoop earrings that represent the latest fashion trends, shapes and of course the traditional classic designs that always stay in fashion.
The decision to include Sterling Silver Jewelry to the mix was a inspired by the commitment to always add new and fresh products to the website. In addition to the Sterling Silver Earring Collection, an entire line of spectacular Sterling Silver Jewelry including, Cuff Bracelets, Necklaces, Pendants, Slides and Omegas will be unveiled as well. In fact, there is such a vast assortment of Sterling Silver Jewelry they are working their little fingers off to get them featured on the website as fast as humanly possible.
"With the holidays almost here, this is a perfect time for us to launch this new product line," said Matthews. "Sterling Silver Jewelry makes a great holiday gift. Our high quality boutique style jewelry and fashionable accessories are an outstanding value and our low online prices make gift giving very affordable. Merchandise comes in a variety of price points, some even start under $10.00, so there is something in the collection for everyone, including budget conscious customers. We all love attention, with the new Sterling Silver Jewelry Collection you'll look incredible, feel incredible, and be the talk of the town, everywhere you go."
About Beadedcoutureandmore.com:
Traditionally a a Affordable Fashion Jewelry and Accessory Website, beadedcoutureandmore.com carries the same high quality fashion jewelry and accessories found at the more expensive boutique shops, but sells them at low affordable prices. We are committed to bringing the best to you every day, in every way, awesome fashion jewelry and accessories at competitively low prices.
Product lines include spectacular Fashion Jewelry, Woman's Accessories, Fancy Evening bags, Jeweled Hair Accessories and Crochet Swimwear and so much more. Today, beadedcoutureandmore.com unveiled a new Sterling Silver Jewelry product line.
Ordering sterling silver and fashion jewelry is easy and completely safe with their secure server website. For the convenience of our customers, several payment options, including all major credit cards, Google Checkout and PayPal are offered. The team is committed to attentive customer service, and always available though email, telephone or online support.
###