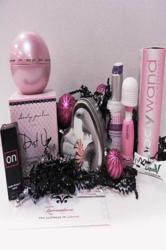 Pocatello, ID (PRWEB) November 16, 2011
Mykarnation.com announced today the release of its Ultimate Romantic Gift Package, an all-inclusive combination of top-selling relationship builders designed to shine the spotlight on romantic gift giving and the intimate spirit of the holiday season.
"Intimacy is all about building slowly from one moment to the next," said Mykarnation.com owner Michelle Meyer, "and we've put together the best possible combination of products for couples to explore each other and build genuine intimacy in their relationship."
Valued at $100, the romantic gift package retails exclusively at Mykarnation.com for $74.99, and
features:
(1) Earthly Body's Heart-Shaped 3-in-1 Massage Candle ignites all the senses to set the mood with a fragrant aroma and silky oil that penetrates and moisturizes the skin for a warm, sensual massage.
(2) Booty Parlor's deliciously shimmering Dust Up Kissable Body Shimmer will light up any holiday soirée with its super-fine sparkle. The scrumptious, rich flavor of Cocoa Bronze is as decadent as a hot cup of cocoa for two.
(3) Shockingly powerful, On Natural Arousal Oil for Her uses a menthol-free blend of essential oils and botanicals to create safe, natural arousal. The intense warming sensation is immediately followed by an almost electric buzzing stimulation that induces natural lubrication.
(4) Pink Indulgence Créme invites users to lose themselves in a pleasant, euphoric experience. Good for use on toys or just because, Pink Indulgence provides deep, long-lasting moisture to play out any secret fantasy.
(5) The power of Liquid V for Men offers a fast-acting, long-lasting stimulating gel that allows men to experience the maximum sensation during intimate activity.
(6) As pretty as it is powerful, Bodywand's Mini Massager glows in pink and rhinestones yet is discreet and compact enough to fit into any purse. Take pleasure to new heights with the rounded soft-touch head, flexible enough to reach all angles. This blingy 4" firecracker is also splash-proof for use in all environments.
The romantic gift giver may also be interested in adding a Mykarnation.com gift certificate to the package for recipients to choose their own distinctive gifts from categories like Flirty Lingerie, Creative Romance, Sexy Guy and more. Gift certificates are available to add to the package in any amount.
For more information about the ultimate in intimate apparel available online, visit http://www.mykarnation.com, or follow the company on Twitter @mykarnation and Facebook for the inside scoop on specials, new product launches and more.
About Karnation Intimate Apparel, Inc.
Karnation Intimate Apparel offers the ultimate in intimate. Always fun and a little bit flirty, Karnation has three physical stores located in Idaho Falls, Pocatello and Twin Falls, Idaho, all designed to help customers turn up the heat in their love life as much or as little as they want to. Karnation's personal shoppers have built a first-class reputation for putting customers first with unmatched customer service and undivided personal attention. At Karnation, discretion is the name of the game and the company cherishes the customer's privacy. Whether customers want to embrace an innocent, ultra-feminine vibe, unleash an adventurous side, or get a little more creative in the romance department, Karnation makes it easy with an extensive, exclusive selection of top-selling and time-tested products featuring intimate apparel, hosiery, bridal lingerie, plus size lingerie, romantic accessories, romantic gifts, costumes, men's apparel and more.
###