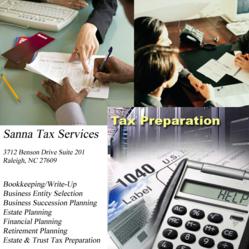 Sanna Tax Services is an outstanding example of a tax service provider...
Winston Salem, N.C. (PRWEB) November 16, 2011
United States income tax laws are considered to be highly complex, with numerous rules, restrictions, deductions, credits and variable tax rates. Virtually every individual and business is required to file a tax return. The US tax code is so complicated that as many as 60% of taxpayers seek outside assistance from a paid preparation service according to the IRS.
Sanna Tax Services is an outstanding example of a tax service provider and they are this week's featured business on Biznessmeet.com. Because they are relatively small company, this firm, based in Raleigh, NC, is able to offer their clients personalized quality service that can often be lost when doing business with a larger entity. Sanna Tax Services consists of a group of qualified tax professionals that offers a wide range of services to individual and business clients including but not limited to: Tax Preparation, Tax Planning, Financial Planning, and IRS Representation.
With a solid background in tax and other financial matters, Sanna Tax Services is also fully qualified to address the complex business issues such as Business Entity Selection, Payroll Services, Sales Tax Services, Bookkeeping, and Business Succession Planning.
To learn more about the extensive products and service offered by Sanna Tax Services, please visit http://www.biznessmeet.com.
"Spotlighting Your Business" is an innovative, new feature that was recently added to Biznessmeet.com. It was created for the purpose of generating added exposure for the members of the Biznessmeet.com virtual community.
Biznessmeet.com is a website that brings together businesses and individuals to share ideas, discuss important topics and assist you in selling your products and services. This site satisfies all walks of life and directly targets individuals as well as businesses wanting to be movers and shakers and dominate their industry.
Biznessmeet is free to join at http://Biznessmeet.com. Build, master and expand connections with this cutting-edge social network today! Remember it's not always what you know, but who you know.
###