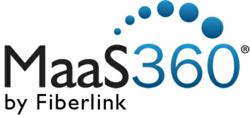 Blue Bell, Pa. (PRWEB) November 16, 2011
Fiberlink®, the leader in software-as-a-service (SaaS) solutions for secure mobile device and application management, today announced that it has been selected as one of the Best Places to Work by the Philadelphia Business Journal. The company is growing rapidly to meet the mobile device management and mobile application management needs of companies. Through Fiberlink's MaaS360 Platform, organizations can easily enable iPhones, iPads and Android devices in the workplace by providing IT staff with the security and management tools needed to embrace these consumer devices. This is a technology market that is experiencing explosive growth and Fiberlink has succeeded with industry-leading cloud technologies and an equally forward-thinking culture.
"Fiberlink is a success story for Philadelphia's business community, demonstrating the ability to thrive through an innovative culture, while providing a wonderful work environment," said Jim Sheward, CEO and cofounder at Fiberlink. "We're delighted to be honored by the Philadelphia Business Journal and it would not be possible without having the best employees in the business. Fiberlink is a great place to work and it's nice to get the word out into the community."
The Best Places to Work program recognizes the most appreciated employers in the Delaware Valley, with rankings provided the company's own staff. Fiberlink's workforce evaluated the company on criteria such as team effectiveness, trust with co-workers, alignment with goals, trust in senior leaders and practices related to respect, recognition and benefits.
Fiberlink is hiring! Fiberlink is looking for professionals in the areas of sales, marketing, and customer service to join their talented, creative, passionate team of employees. http://www.maas360.com/join
About Fiberlink
Fiberlink is the recognized leader in software-as-a-service (SaaS) solutions for secure enterprise mobile device and application management. Its cloud-based MaaS360 platform provides IT organizations with mobility intelligence and control over mobile devices, applications and content to enhance the mobile user experience and keep corporate data secure across smartphones, tablets, and laptops. MaaS360 helps companies monitor the expanding suite of mobile operating systems, including Apple iOS, Android, BlackBerry, and Windows Phone. Named by Network World as the Clear Choice Test winner for mobile device management solutions, MaaS360 is used to manage and secure more than one million endpoints globally. For more information, please visit http://www.maas360.com.
© 2011 MaaS360 and the MaaS360 logo are trademarks of Fiberlink Communications and may be registered in certain jurisdictions. All other brand names are trademarks of their respective partners.
###