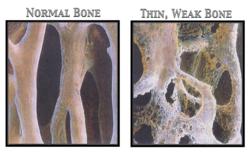 Along with with promoting healthy bones, calcium and magsesium help soothe sore muscles and ease occasional leg cramping
Destin, FL (PRWEB) November 21, 2011
Osteoporosis or porous bone, is a disease characterized by low bone mass and structural deterioration of bone tissue. It is a major public health threat for an estimated 44 million Americans, or 55 percent of people 50 years of age and older. In the U.S., 10 million individuals are estimated to already have the disease and almost 34 million more are estimated to have low bone mass, placing them at increased risk for osteoporosis. Researchers have found that maintaining adequate levels of calcium throughout life, as part of a well-balanced diet, may reduce this risk.
To help combat osteoporosis, Great American Products, a leading nutritional supplement company, developed Calabsorb®, a quick absorbing Calcium/Magnesium powdered drink mix. It is an effervescent powder that mixes instantly with water, tea, juice or any liquid to help keep bones strong and healthy.
"Our company slogan is "Improving The Quality Of Life For Millions," and I thought that since the problem of osteoporosis so pervasive, I wanted to create an infomercial to adequately inform and educate consumers about this disease as well as to create awareness of an incredible product that can help them," says Stephan Karian, the company's founder and president.
A key goal of the infomercial is to point out the tremendous difference there can be amongst the many calcium formulas on the market. For example, many calcium supplements are made from calcium carbonate, a cheaper form of calcium otherwise known as chalk. Calasorb is made with calcium citrate and is much better absorbed than calcium carbonate by the body.
And unlike many formulas, Calabsorb also includes additional vitamins and minerals that further support enhanced absorption of calcium into bone so that the body uses it as efficiently as possible, including magnesium and vitamins C & D. In fact, Calabsorb is formulated with a 2:1 ratio of calcium and magnesium, the precise mineral balance highly recommended by researchers.
Besides promoting strong and healthy bones, a proper balance of calcium and magnesium has many additional benefits, including promoting healthy cardiovascular and mental function, combating muscle cramps and other symptoms associated with PMS, reducing stress, and help with occasional sleeplessness.
For more information on Calabsorb and bone health, view the video at http://www.calabsorb.com.
About Great American Products
Founded in 1995, Great American Products began simply as a dream to make a difference in people's lives with safe and effective nutritional supplements manufactured to the very highest standards. Now over 15 years and over a million customers later, the company has evolved into a major category leader and healthy lifestyle online resource. With over 140 nutritional products that support anything from digestive, cardiovascular, urinary and respiratory health to weight management and energy building, the company offers a full line of nutritional supplements to address virtually all health needs.
Visit: http://www.greatamericanproducts.com
Facebook Page: http://www.facebook.com/greatamericanproductscom
About Stephan Karian:
For more than two decades, Stephan Karian has been a tireless health advocate who is amongst the top health experts that actually walks the walk and talks the talk. He is a shining example of the fitness and healthy lifestyle strategies he so actively preaches. As president and founder of Great American Products, he is at the forefront of the development of the most advanced nutritional supplements in today's marketplace. He has shared his passion and knowledge of optimum vitality not only through his nutrition company, but also through books, articles, newsletters and the many radio and television stations he has appeared throughout the United States and Canada.
Stephan's Twitter Feed: http://twitter.com/stephankarian
###