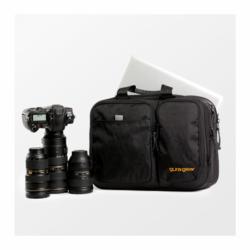 Ogden, UT (PRWEB) November 17, 2011
Gura Gear, a leading-edge brand focused on developing innovative products for the discerning world traveler, announces the release of Chobe, its well-designed full-featured business, travel, and photography bag with room for all of the necessary accoutrements. Designed by the same company that brought you the revolutionary Kiboko photographic backpack, Chobe is the perfect business bag with room for a 15" laptop, iPad and Kindle or other tablet, business papers, magazines, travel documents, and all of the bits and pieces that make life comfortable on the road.
Like all Gura products, Chobe is forward-looking in terms of technology, the choice of materials or design.
With the flip of a zipper, the bag also expands to accommodate a spare change of clothes and goes from day job to overnighter. Add the custom designed matching padded insert and Chobe's role grows to camera bag extraordinaire hauling professional DSLR camera bodies and lenses in style.
Constructed of the finest materials, Chobe features lightweight, durable sailcloth, the same technology used in the America's Cup race sails. The bag's convertible function allows for multiple missions by discerning travelers that work as hard as they play. Because the bag was developed on the road, the little things are covered, like an expansion pocket for a drink and plenty of pockets and compartments to keep life organized. A concealed sleeve for sliding on rolling luggage means that Chobe can hitch a ride any time. The bag fits international requirements for carry on sizes and in most cases qualifies as a simple personal item.
The Chobe 19-24L is available at http://www.guragear.com or by calling (801) 823-2809.
Chobe 19-24L Price:
(GG18-1-K) Bag and custom designed insert -- $349
(GG18-1-B) Bag only -- $299
(GG18-1-I) Insert only -- $59
Images available upon request.
About Gura Gear
The Company's heritage began on the back of a napkin, while enjoying a refreshing break on safari in Africa. The goal was to answer the question of what the perfect camera bag looks like. The scribbled notes (later deciphered with clear minds) described a bag that should be lightweight, under four pounds. It should have a comfortable, yet stow-able harness for simplicity and ultimate portability in backwater airports. Big enough to hold long glass, but small enough to carry on regional jets, wrapped in a clean understated design. The resulting Kiboko was proof enough that Gura Gear's purpose in life was to travel a lot, eat good food and draw on napkins.
At Gura Gear, we have always paid careful attention to detail and quality in every aspect of our business. Our products are durable, lightweight, and fully functional. We stand by every product we deliver, because we've used it in real world environments. We design for our lifestyle and those that appreciate traveling with purpose. We pursue our passions, often from behind the viewfinder, but never from a couch, unless that couch is on the deck of a lodge overlooking the South Pacific after a nice long dive. You can find us in airports, Land Rovers bumping across the Serengeti, freezing our collective rears off with Penguins in Antarctica, and hiking to our favorite canyons. Every once in a while, we even sit in an office.
###