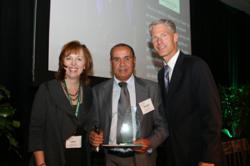 During a recent snowstorm he went through the parking lot and cleared off over 100 cars full of snow so guests would not have to
Denver, Colorado (PRWEB) November 16, 2011
The Colorado Hotel & Lodging Association named its 2011 Employees of the Year at an awards luncheon given in the Broadmoor on October 25th, 2011.
"Hassan Ouibourk is one of the most dedicated associates I have ever had the pleasure of working with on a daily basis," says General Manager Aaron Alberding, "He is focused on keeping our property looking pristine everyday. During a recent snowstorm he went through the parking lot and cleared off over 100 cars full of snow so guests would not have to."
Hassan Ouibourk was named STAR OF THE INDUSTRY in his category which is Housekeeping – non Supervisor. He was awarded this honor over several hotels competing in this category. The DoubleTree by Hilton Denver Tech Center is proud to have Hassan Ouibourk on their staff and recognizes his work ethic and dedication to his job.
###