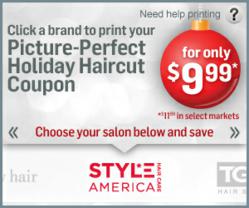 Minneapolis, MN (PRWEB) November 23, 2011
It's time to spread some holiday cheer! Regis Corporation wants to say happy holidays with great haircut deals for the family. Best of all, customers get to choose their discount from 13 different Regis salons! This year families will look great though out the season from neighborhood parties, to family get-togethers to dance recitals. Starting today, they will be giving out a coupon* for a $9.99 haircut ($11.99 in select markets) across 13 Regis Corp. salons in over 4,300 locations. From November 22, 2011 through January 15, 2012, they will let the customer choose the salon they want discounted as part of the Picture-Perfect Holiday promotion. To get the coupon, visit the Beauty Bargains blog, choose a salon and print. It's that easy: http://beautybargains.tumblr.com/.
This holiday choose a salon, choose a style, choose to look great. There has never been an easier way to shine through the holidays. Regis Corp. is also giving customers $10 to spend on Shutterfly holiday photo cards while supplies last to say thanks for visiting. Get that camera ready: looking picture-perfect has never been so easy.
No matter where they're celebrating this holiday season, the whole neighborhood should join Regis Corp. in spreading some holiday cheer. Give the power of choice to friends, family and co-workers by sharing this deal on Facebook and Twitter. They deserve the chance to save and look great too. The more the merrier!
*Coupon valid at the following Regis Corporation salons: MasterCuts, Regis Salons, Cool Cuts 4 Kids, SmartStyle, Best Cuts, Borics Hair Care, Famous Hair, Fiesta Salons, Saturday's Salon, HairMasters, HeadStart, Holiday Hair, Style America and TGF Hair Salon. Offer valid through 1/15/12. No double discounts. Coupon may only be used one time per customer. Valid at participating U.S. locations.
###