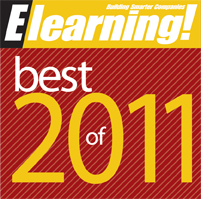 Corona, California (PRWEB) November 15, 2011
Elearning! Media Group announced today the launch of Best of Elearning! Day hosted virtually on December 8, 2011. Five live sessions will present 15 winning solutions via the Enterprise Learning! Conference & Expo Encore Virtual event platform. Learning executives are invited to register free for this online interactive event at http://www.elceshow.com
In its seventh year, the Best of Elearning! Awards honor best-in-class solutions across 20 categories. As the exclusive readers' choice awards, attendees will hear what real world users say about these solutions. The Best of Elearning! Day sessions offer you an opportunity to see solutions side-by-side, evaluate applications and best uses, and ask the experts for advice.
The Best of Elearning! sessions represent the highest vote getting categories and are the fastest growing. According to Ambient Research, the mobile learning segment will reach $9.1 billion by 2015, 23% CAGR. Collaborative learning will reach $5.5 billion and e-learning should tip $50 billion by 2015. Bersin & Associates reports that talent management systems are a $3 billion industry and grew 11% in 2011.
The Best of Elearning! Day Sessions
I. General Session: Social Media in the Workplace
Panelists from OPHR Group
Five years ago HR professionals were writing policies to keep their employees from using social media at work. Today, we are writing policies to help them use it. Companies cannot ignore the impact that social media has on learning cultures, employee engagement and productivity, and recruiting. In a study by Accenture, 52% of employees surveyed said that a company's use of technology was a major factor when selecting an employer. In this session you will gain practical tips and suggestions for how best to implement social media in your organization while protecting the company and your employees from potential liabilities.
II. Best of Elearning!: E-learning Development Tools
Panelists from Articulate, Trivantis, Adobe
Interactive. Engaging. Rapid. These are all the possibilities when using the proper content authoring and publishing solutions. Jerry Roche hosts panelists from the Best of Elearning! Rapid Authoring and Development Tools. Each expert will showcase the features and benefits of these solutions. Learn how to create engaging content fast, affordably and with fun!
III. Best of Elearning!: Learning & Talent Systems
Panelists from Saba, OutStart, eCornell
Considering a new learning or talent management system? Join Jerry Roche, EMG's editor-in-chief when he shares the advice of four expert technologists across the: Best Learning Management System, Best Learning Content Management System and Best Talent Management System. This panel will reveal which platform(s) you should consider, the advantages and disadvantages of various platforms, as well as the important preparation steps.
IV. Best of Elearning!: Virtual Classrooms
Panelists from GoToTraining & Adobe Connect Pro
75% of enterprises use web conferencing for training and 45% host virtual classrooms. Which is the right fit for your organization? Tim Martin, Director, Elearning! Media Group, hosts panelists from the Best of Elearning! for Web Conferencing and Virtual Classroom solutions. In this session, they will define these terms, identify the features sets and help you determine the best fit for your training needs. Come armed with your questions for these experts who will share real world case studies and best practices.
V. Best of Elearning!: Engagement Tools
Panelists from SkillSoft, SABA, Brainshark
Approximately 66% of enterprises plan to implement an engagement tool initiative. If you are one, you should join Tim Martin when he showcases the best-in-class engagement tool solutions. The panelists will present solutions, real-world examples and best-use cases. The session will present the Best of Elearning! from: Best Presentation Tools, Best Video Capture, Production & Publishing Solution and Best of Simulation Development Tools.
"Among our readership, 41% plan to buy a new learning or talent system, 75% are using virtual instruction, and 31% seek new e-learning development tools. Engagement tools are also a key buying category. 29% are sourcing mobile solutions and 23% are sourcing social learning options," reports Catherine Upton, Group Publisher, Elearning! Media Group.
In addition to the conference sessions, the virtual environment features an expo hall, networking lounge and resource center packed with valuable research, white papers and more. Plus, all registered attendees will also receive access to ELCE Encore presentations of nine keynotes and general sessions from the September event.

Re-inventing Our Education Future by Sal Khan, founder, Khan Academy
Learning Culture: Best Practices of an Empowered Enterprise by Josh Bersin, Bersin & Associates.
Web 3.0: Fact or Fiction by Kevin Oakes, i4cp and David Coleman, Collaborative Strategies
Re-designing Enterprise Learning: How Technologists are Changing Your Future by Joe DiDonato, EMG
The World Peace Game by John Hunter, The World Peace Foundation….and more.
"We are honored to host the Best of Elearning! Day. The event will run on the ELCE Virtual event platform and provide additional opportunities for our ELCE attendees and sponsors to convene, share and learn. Plus, the event is open to new attendees as well at no cost," says Catherine Upton, Group Publisher, Elearning! Media Group.
Don't Miss Out, Attend Best of Elearning! Day, December 8th, 2011
Best of Elearning! Day virtual registration is now open at http://www.elceshow.com. Registration is complimentary for practitioners in the training, talent, e-learning, workforce, human resources or executive management. Vendors or suppliers do not qualify.
About Elearning! Media Group
Elearning! and Government Elearning! magazines, e-Magazines, E-newsletters, Alerts, Web sites and Summits are produced by B2B Media Company, LLC. Elearning! magazine is one in the family of 11 media products serving the $160 billion e-learning market. In combination, these brands reach up to 2 million executives, practitioners and professionals who plan, evaluate and deploy enterprise-wide learning solutions across their organizations each year. To learn more, visit: http://www.2elearning.com or http://www.gov.2elearning.com
Enterprise Learning! Events
Fifth year, Enterprise Learning! Events bring onsite and online live audiences together to learn, network and share. Enterprise Learning! Summit DC 2012 hosts the Learning! 100 Awards honoring America's top learning organizations and Government Learning! Conference, March 20-21, 2012 in Alexandria, VA. http://www.els.2elearning.com Mark your calendar for Enterprise Learning! Conference & Expo, the exclusive learning and workplace technology marketplace, October 2-4th, Anaheim, CA. http://www.elceshow.com
###