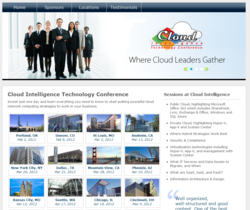 "It is very difficult to host this type of event and to avoid self-promotion by the presenters, I would recommend this conference and I would attend in the future. Overall, I found it to be inspiring!" - Cloud Attendee
Irvine, CA (PRWEB) November 16, 2011
QuickStart Intelligence, the largest Microsoft Gold Learning Partner in the western United States, in partnership with the Star Learning Alliance, today announced the launch of their 2012 Cloud Intelligence Technology Conference series scheduled to be held in 16 cities across the United States. These exclusive one-day conferences offer attendees the opportunity to significantly advance their knowledge and understanding of cloud computing from some of the foremost experts in the field.
QuickStart Intelligence is well-known throughout the western United States as one of the top providers of Microsoft training courses and related technologies since 1988. Their eight conveniently located fully-equipped training centers in the west are augmented by their innovative QSLive videoconferencing and collaboration system which creates a highly effective virtual classroom experience for students, allowing them to take full advantage of QuickStart's extensive catalog of courses from literally anywhere.
Encouraged by the excellent response to the 2011 Cloud Intelligence Technology Conferences in the western United States, QuickStart has joined forces with more than a dozen other training partners and Microsoft to bring these concentrated learning opportunities to sixteen cities across the United States, including Anaheim, Chicago, Cincinnati, Dallas, Denver, Houston, Kansas City MO, Minneapolis, Mountain View, New York City, Philadelphia, Phoenix, Portland OR, San Diego, Seattle, and St. Louis. Each Conference will include sessions from award-winning instructors and personalized sessions appropriate for every level of expertise from beginner to advanced.
An attendee at a 2011 Cloud Intelligence Conference pointed out that "It is very difficult to host this type of event and to avoid self-promotion by the presenters… yet you succeeded. Congratulations! I would recommend this conference and I would attend in the future. Overall, I found it to be inspiring!"
Keynote addresses from prominent experts and each of the sessions will provide a comprehensive perspective on key cloud computing topics including public, private, and hybrid strategies, security, compliance, virtualization, migration strategies, information architecture and much more. Featured Microsoft technologies include Microsoft Office 365, SQL & Windows Azure, Hyper-V, App-V, SharePoint, Exchange and System Center.
"The Intelligence Conference series is helping our customers find partners that can help them understand and apply new Microsoft technology," says Justin Slagle, Director of Business Development at QuickStart Intelligence. "These overview conferences are becoming essential for customers to get a high level understanding of what the technology is and who they can turn to for implementation, training and support."
For more information, visit http://www.intelligence-conferences.com.
ABOUT QUICKSTART INTELLIGENCE
Over 200,000 professionals have chosen QuickStart Intelligence to improve their technology skills, increase their knowledge and further their careers since 1988. The only three-time winner of Microsoft's Worldwide Training Partner of the Year, QuickStart is the largest Microsoft Gold Learning Partner in the western United States with eight training centers conveniently located throughout the west. QuickStart's extensive catalog of instructor-led public course offerings are guaranteed to be held live in the classroom and online using QSLive, an innovative distance learning system that combines videoconferencing and collaboration tools to create a virtual interactive classroom environment. For more information about QuickStart's courses, customized training programs, technology conferences and technical mentoring services, visit http://www.quickstart.com.
###