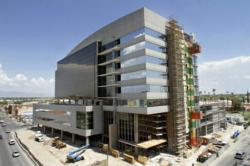 Foam roofs that were applied in the early 1970s are still doing well.
Tucson, AZ (PRWEB) November 16, 2011
Throughout the Southwest, spray foam roofing is an ideal solution for flat or low sloped roofs. However, the experts at Roofing Southwest (commercial roofing pioneers celebrating their 40th Anniversary using spray foam) have found so many myths surrounding this roofing choice that many of their customers are concerned about taking advantage of this option. In fact, so strongly do they believe in the value of spray foam, they used SPF to complete the roof on Downtown Tucson's first high-rise built in 20 years, the Unisource Headquarters² — a $60 million, nine-story, 170,000 sq ft office building.
In honor of its anniversary and to show consumers the value of spray foam, Roofing Southwest wants to bust a few myths.
Myth #1: It's expensive.
Spray foam roofing is extremely affordable. The cost is comparable to a single layer of asphalt shingles. In fact, with the rising cost of oil prices, the cost of asphalt shingles (which are an oil-based product) is on the rise, while spray foam pricing remains fairly steady.
Myth #2: Spray foam isn't durable.
Research shows that successful roofing foam brands can last up to 50 years when applied and maintained with periodic re-coating. Some foam roofs that were applied in the early 1970s are still doing well.
Myth #3: Spray foam is toxic.
Spray polyurethane foam is just a slightly altered form of plastic that is used to make the millions of bottles used in the food industry — bottles used to hold water, soda, ketchup, mustard, mayo and thousands of other products consumed throughout the country daily.
Myth #4: Spray foam doesn't insulate well.
Foam roofing is an excellent option for insulating your home or business from the heat, particularly for flat or slightly sloped roofs. The closed cell structure gives foam roofing one of the highest R-Values (thermal resistance) of any roofing materials on the market, and it makes it highly water resistant as well as highly fire resistant.
Myth #5: Spray foam isn't energy efficient.
Texas A&M calculated the energy consumption of its buildings before and after the application of its spray foam roofing systems. According to the study of more than eight million square feet of SPF roofing, energy savings paid for the cost of Texas A&M's SPF roof applications in three to four years.¹
About Roofing Southwest
Celebrating their 40th Anniversary this year, the professionals at Roofing Southwest (formerly Sprayfoam Southwest) have more than 150 years combined experience working on all types of roofs, both commercial and residential. The company is licensed, bonded, and insured to conduct business in Arizona, Nevada, California, New Mexico and Texas, and is able to take on all types of projects from small residential to large commercial buildings, including noteworthy projects in Tucson such as Texas Instruments, Desert Diamond Hotel & Casino and Ritz-Carlton Dove Mountain. Roofing Southwest works closely with clients, frequently engineering solutions that allow property owners to keep and maintain their existing roof rather than insisting on a replacement. For more information, visit http://www.roofingsouthwest.com/tucson.
¹Texas A&M study - http://allstateroofingokc.com/texas_AM.pdf 
² Unisource Story - http://www.downtowntucson.org/2011/10/unisource-will-move-into-its-new-hq-this-weekend/
###