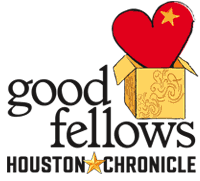 Houston, Texas (PRWEB) November 17, 2011
Goodfellows – the Houston Chronicle's holiday charity that provides toys to needy children – celebrates its 100th anniversary this year. The organization was begun by Chronicle City Editor George Kepple who passed a hat around the newsroom to provide money for a young shoeshine boy who was still working on a cold Christmas Eve in the hopes of providing some gifts for his family.
Since then, Goodfellows has provided millions of dollars' worth of new toys for the children of needy families during the holidays.
In addressing the generous readers, vendors and employees who all contribute to the charity, Houston Chronicle Publisher and President Jack Sweeney, said "This year, we celebrate 100 years of community philanthropy. A tradition that began on a winter night in 1911 continues today through your generosity."
Last year, that generosity enabled Goodfellows to provide toys to nearly 60,000 area children in some 18,000 families.
If you would like to help, please donate at chron.com/goodfellows or call 713-362-2273 (C-A-R-E). Checks may also be mailed to Goodfellows, 801 Texas Avenue, Houston, TX 77002.
Goodfellows is a 501©3 organization that was created and is run by the Houston Chronicle. It has provided new holiday toys to needy children since 1911. Funds are donated by Chronicle readers, employees and business partners and are used entirely to purchase toys. In order to reach families in greatest need, toy recipients are determined through the Texas Health and Human Services Office of Eligibility. Donors are mentioned by name both in the paper and online (unless anonymity is requested), and large donors are thanked publicly.
The Houston Chronicle, the largest newspaper in Texas and the nation's seventh-largest newspaper, has evolved into a multimedia company publishing online and commercial print products, in English and Spanish, reaching specific audiences with unique delivery programs. In addition to the Houston Chronicle's 1.2 million daily readers and 1.7 million readers on Sunday, Chron.com, the Chronicle's online site, averages nearly 61 million page views and 6.8 million unique visitors each month. The Houston Chronicle is owned by the Hearst Corporation.
###