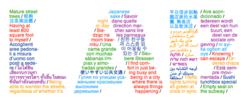 (PRWEB) November 16, 2011
The BMW Guggenheim Lab Berlin, a combination think tank, research centre focused on urban experiments, public forum, and community center, will be located in the Pfefferberg complex in the Prenzlauer Berg neighborhood. The BMW Guggenheim Lab Berlin will be housed in an innovative compact temporary facility which can easily fit into dense neighborhoods and travel from city to city. The Lab is presented in collaboration with ANCB–Metropolitan Laboratory and will offer a range of free programs exploring issues confronting urban challenges as well as urban life.
Part of the Lab's programming is Urbanology, a large group game that can be played on-site in an interactive installation, as well as online at bmwguggenheimlab.org. Participants role-play scenarios for city transformation and become advocates for education, housing, health care, sustainability, infrastructure, and mobility as they build a city that matches their specific needs and values.
"We welcome the new BMW Guggenheim Lab Team, which includes one of our own residents, to Berlin, and we can't wait to see what they develop for the Lab in late spring. The Berlin Lab Team is currently here, developing program ideas for the site and meeting with a variety of local collaborators with whom they will be working next spring," said Berlin Mayor Klaus Wowereit. "As a vibrant and progressive center of culture and creativity, and a laboratory in its own right, Berlin will be an ideal site for this exciting initiative."
"With the appointment of the Berlin Lab Team, and the range of experience and interests they bring to the project, we are excited to see how this initiative will continue to evolve and further the Guggenheim's commitment to education, scholarship, and design innovation. We thank the city of Berlin, the home of Deutsche Guggenheim, ANCB, and especially BMW for joining us in this pioneering urban experiment." said Richard Armstrong.
"Goodbye New York, hello Berlin—before Mumbai, we welcome the BMW Guggenheim Lab to Germany's capital," said Frank-Peter Arndt, member of the Board of Management, BMW AG. "The highly professional and intensive dialogue, as well as the broad public interest during its sojourn in Manhattan, has exceeded our expectations. The adventure continues. We are very much looking forward to an exciting program in Berlin."
"The very first version of the Lab in Europe will have a particular focus on the importance of practical doing and making, empowering urban dwellers with tools and ideas to actively engage in city change," said Maria Nicanor, Assistant Curator, Architecture, Solomon R. Guggenheim Museum, and curator of the Berlin Lab.
"We at ANCB are pleased to collaborate closely with the BMW Guggenheim Lab Berlin on the programming for this exciting project," said Hans-Jürgen Commerell and Kristin Feireiss, Directors of ANCB. "The theme of the Lab, Confronting Comfort, probes areas that ANCB has also been deeply engaged with—notions of individual and collective comfort and the urgent need for environmental and social responsibility. We look forward to working with the BMW Guggenheim Lab to deepen dialogue about the issues pressing upon contemporary urban life, supporting new ideas, experimentation, and the creation of forward-thinking solutions for city life, and we are glad to involve our partners and associated networks."
The BMW Guggenheim Lab website, blog at blog.bmwguggenheimlab.org, and online communities further extend the opportunity to participate in this multidisciplinary urban experiment worldwide. Visitors are invited to become members of the BMW Guggenheim Lab's dedicated social communities at:
twitter.com/BMWGuggLab as well as following the hashtag #BGLab
http://www.facebook.com/BMWGuggenheimLab
http://www.youtube.com/BMWGuggenheimLab
http://www.flickr.com/photos/bmwguggenheimlab
foursquare.com/bmwgugglab
###