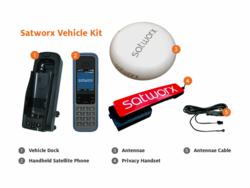 When we're chasing storms, our Satworx satellite equipment provides a vital lifeline for the TVN team.
Las Vegas, Nev. (PRWEB) November 16, 2011
Satworx, a leader in global satellite phone solutions, was recently chosen by renowned storm chasing team TVN to provide communications for its daring scientific missions that require driving within 1,000 feet of a tornado.
The TVN team, featured in the Discovery Channel's Storm Chasers, selected Satworx based on the company's successful record of implementing reliable and consistent satellite-based communications customized to each client's unique needs.
"When we're chasing storms, our Satworx satellite equipment provides a vital lifeline for the TVN team," said Reed Timmer, TVN lead storm chaser and meteorologist. "Satworx enables us to stay in constant contact and give advanced warning should a storm change direction or intensity, which saves lives."
Each spring and summer, Timmer and his TVN team travel from the Mexican border to Canada to chase tornados. The goal is to collect scientific data and high-resolution video very near to the tornado core where the strongest winds reside to better understand how these storms form and sometimes turn deadly.
Tornados frequently destroy local infrastructure, including radio and cell phone towers. Satworx satellite-based communication tools allow the TVN team to execute complicated maneuvers in dangerous conditions between team members on foot and in vehicles. Vehicle docking kits with detachable GPS enabled satellite phones deliver essential voice and text services. The aptly named lead chase vehicle, Dominator II, is also equipped with a low-profile tracking antennae that can network up to 11 users via Wi-Fi and maintain a high-speed satellite data connection while driving.
"Coordinating experiments from the Dominator II in 120 m.p.h. winds with rain and flying debris requires dependable, uninterrupted connectivity," said Sean McCready, Satworx marketing director. "With Satworx, TVN maintains complete voice, text and data service independent of conditions on the ground."
For more information about TVN, visit http://www.tornadovideos.net and http://dsc.discovery.com/tv/storm-chasers/.
About Satworx
Satworx is a leading global satellite phone distributor that delivers satellite services to individual, corporate and government subscribers around the world. Satworx offers world-wide coverage for voice, text and high-speed broadband data that can support the most demanding land mobile, maritime and aeronautical communication applications. Customized satellite hardware and service configurations, designed by expert sales staff, are all supported by global, 24/7 customer service. For more information, visit http://www.satworx.com.
###