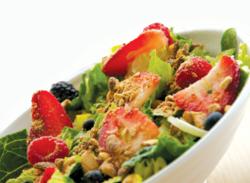 There's nothing better than having someone step out of their traditional taste bud boundaries to discover a new favorite that they didn't even know existed.
Phoenix, AZ (PRWEB) November 17, 2011
On Thursday December 1 through Saturday December 3, Café Zupas will celebrate its arrival to Arizona with free meals and an exclusive party for its first 600 customers. The restaurant will open its doors on 1935 East Camelback Road in Phoenix, in front of the Camelback Colonnade Shopping Center. Café Zupas uses an eclectic mix of fresh and exotic ingredients to create an extraordinary menu of specialty soups, salads, and gourmet sandwiches. The restaurant currently operates in 11 locations in Utah and has won 13 Best-of-State awards. Phoenix will be the home of Café Zupas first out-of-state restaurant.
Café Zupas patrons can visit its Facebook site, facebook.com/CafeZupas to "like" the restaurant and reserve a meal ticket by clicking on the "Free Meal" link on the page. Customers will be able to choose between a lunch (11:30am-1pm) or dinner (5:30pm-7:00pm) ticket on Thursday, Friday, or Saturday. The meal includes an entrée selection (two of the following: whole sandwich, half soup, half salad) a drink, and dessert. All meals will also come with a chocolate-dipped strawberry.
Customers will have up to 35 entrees to choose from, including the BBQ Pulled Pork Sandwich, Italian Club Sandwich, Pesto Chicken Sandwich, Turkey Bacon Avocado Sandwich, Ultimate Grilled Cheese Sandwich, Lobster Bisque, New England Clam Chowder, Tomato Basil with Orzo Pasta Soup, Thai Lobster Curry, Nuts About Berries Salad, Vermont Maple Blueberry Salad, BBQ Chicken Salad, and the Create-Your-Own Salad with a choice among 58 different ingredients.
"Our goal at Café Zupas is first and foremost to provide great-tasting food, but we also love to expose our customers to different cultures through food and at the same time educate and enrich their experience so that with each visit their learning something new and discovering another favorite," said Eric Gordon, Chief Operating Officer. "There's nothing better than having someone step out of their traditional taste bud boundaries to discover a new favorite that they didn't even know existed."
"Our commitment to fresh fast food, homemade recipes, and focus on people are reasons for our strong customer base in Utah, and we would like to expand this concept to Arizona," said Gordon. "We think our food helps promote an active, healthy lifestyle."
All restaurants also have interactive components. "Café Zupas is also aware of our customers' digital lifestyle and has wireless internet and iPod docking stations, adding to our high-tech feel," said Creative Director Gheen Hillman. "I think it's going to be something that a lot of people haven't seen before, something impressive that goes above their expectations."
About Cafe Zupas:
Café Zupas specializes in gourmet soups, salads and sandwiches using fresh and exotic ingredients in a fast-casual setting. Opening its doors in 2004, there are now eleven restaurants in Utah with a new Phoenix location opening in December 2011. The menu offers ten homemade soups, twelve exotic salads, seven Panini's, and five Gourmet Sandwiches. In addition, the Café Zupas Drink Bar offers sixteen different types of soda, Crystal Light, and Italian Soda flavorings. Add to that the soup mix-ins and hot sauces, the 58 ingredients for the "Create Your Own Salad" and the weekly specials, and the combination is in the millions. Café Zupas' unique touch is a free chocolate-dipped strawberry with every meal and a matchless dessert menu featuring seasonal specialties. Café Zupas is an eclectic mix of extraordinary fresh food combined with an appreciation for culture and environment.
At the Café Zupas website, http://www.cafezupas.com, customers can vote online for the weekly specials and comment on blogs for their favorite foods and travel experiences. Some of the nation's top food bloggers also post their favorite recipes on the site each week.
Café Zupas has received much critical acclaim and been featured in several news articles and television shows such as KSL's Studio 5, ABC's Good Things Utah, Fox's Good Morning Utah, the Deseret News, Daily Universe, Salt Lake City Magazine, and the Sunday business section of the Daily Herald. For six consecutive years, Café Zupas has also received "Best of State" awards in categories such as, "Best Salads", "Best Soups" "Best Local Sandwiches" and "Best American".
For more information on Café Zupas, please visit http://www.cafezupas.com, check out the Facebook page at http://www.facebook.com/CafeZupas or @CafeZupas on Twitter.
###