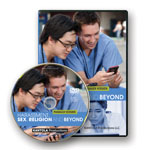 Watch Out: Social Media is Coming to Work...
Mill Valley, CA (PRWEB) November 17, 2011
Kantola Productions LLC is pleased to announce the release of its new harassment training video series, "Harassment: Sex, Religion and Beyond" DVDs – in Employee, Manager, and California Manager Versions. These new harassment programs, with companion Study Guides and Trainer's Manuals, are the latest in Kantola's library of over 130 training programs.
Through compelling vignettes, these broadcast-quality videos explain the law. But they also personalize the value of inclusiveness by showing the potential harm that can be caused by unwelcome conduct.
Examples of bad behavior:

Social media allows an embarrassing photo to make the rounds in a hospital.
Two guys on a city crew mistreat a "less macho" coworker.
Friction in a restaurant kitchen leads to insults for a busser from another country.
A religious coworker is excluded on a construction site.
A client puts pressure on a company rep for a "quid pro quo" exchange.
Two colleagues are offended by the inappropriate dress and flirtatious behavior of their coworkers.
Retaliation takes a subtle form but is no less against company policy—and against the law.
Preview short "Harassment: Sex, Religion and Beyond" video clips online. The Employee, Manager and California Manager versions each include one free Study Guide. Trainer's Manuals are available separately. On-demand video streaming is also available.
Company Information
Since 1985, Kantola Productions has offered high-quality video and online training on harassment and diversity, communication, customer service, management, human resources, health and safety, and computer training. The video production company has won national training awards, including the Telly, the Cine Golden Eagle, and the National Education in Media Network Silver Apple.
###