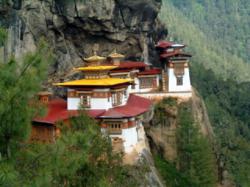 "Travel in Bhutan is still an exceptional value as the price per night reflects an all inclusive style vacation with accommodations, all meals, personal tour guide, private car and driver along with all entry fees to museums," says Mr. Rinzing
Thimphu, Bhutan (PRWEB) November 17, 2011
Sakten Tours & Treks, a leading Bhutan tour operator is offering last minute Bhutan travel packages for those wanting to visit this tiny Himalayan kingdom before major price changes to travel policy take effect the first of the year.
Prices for travel in Bhutan are set by the Tourism Council of Bhutan and have not been increased for some time. The increases are likely attributed to the impact of regional inflation and double digit growth of the Indian economy, Bhutan's closest neighbor.
Officials from the tourism board issued the following guidelines for the changes expected. "Effective January 1st, 2012, Bhutan's minimum package tour cost per person will be increased from $200 USD a night per person to $250 USD per night during peak season months. The $250 per person per night will be for tourists on a twin sharing basis for the months of March, April, May, September, October, and November. Off season months of January, February, June, July, August, and December will be $200 USD per night person. All other surcharges, royalties, and fees will remain the same."
Sakten offers tours and treks in Bhutan such as the Bumthang Cultural Trek, Dagala Thousand Lakes Trek, Druk Path Trek, Duer Hot Springs Trek, Gangtey Trek, Haa-Paro Ancient Route Trek, Jomolhari Trek, Lunana Snowman Trek, Merak-Sakten Trek, Samtengang Trek, to name a few.
They also advertise several festival packages such as the Thimphu Tsechu, Paro Tsechu, Punakha Domchoe, Trongsa Tsechu, Ura Yakchoe, Jampay Lhakhang Drup, Nimalung Tsechu, Trashigang Tsechu, Wangdue Phodrang Tsechu.
For more detailed information about these changes in tourism policy or for questions regarding travel in Bhutan, you can visit the official websites of Sakten Tours & Treks, Bhutan Tour Operator or Bhutan Travel
About Sakten Tours & Treks, Tour Operator
One of the first travel agents after the privatization of tourism in Bhutan, Sakten Tours & Treks is a leading tour service operator in Bhutan. The company specializes in offering adventure tours and treks in Bhutan. Sakten provides customized tour programs to both individual and group travelers.
###