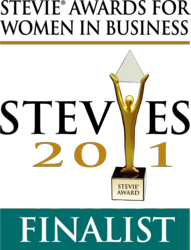 San Diego, CA (PRWEB) November 16, 2011
Underground Elephant, a leader in performance-based marketing, announced today that Executive Vice President of Strategic Accounts, Taryn Lomas, and Director of Social Marketing, Lauren Alexander were recognized as Stevie Awards for Women in Business finalists. Deemed as the world's premier business awards, The Stevie Awards for Women in Business recognizes dynamic women leaders, entrepreneurs and executives for their positive impact in the workplace.
Finalists were chosen by more than 200 worldwide business professionals during preliminary judging. Out of a record 1,300 entries in 75 categories, Lomas was announced as a finalist for the Best Executive – Service Business (up to 100 employees) and Alexander as a finalist in the Employee of the Year.
Utilizing her comprehensive experience in sales, marketing and business development, Lomas has strategically secured and maintained Underground Elephant's top clients. During her tenure, she has consistently contributed to Underground Elephant's growth and efficiency since its inception in 2008. Lauren Alexander is seasoned in multiple facets of the online marketing space and leads Underground Elephant's social marketing department. Her expertise in content writing and optimization has allowed her to scale campaigns and revenues quickly and efficiently.
"Taryn and Lauren's international recognition by the Stevie Awards is well-deserved," said Jason Kulpa, CEO of Underground Elephant. "Through their dedication and passion for the industry, they have consistently raised the bar for excellence and have become invaluable assets to the company."
Both women were recognized as finalists for last year's Stevies Awards for Women in Business as well as finalists in San Diego Business Journal's Women Who Mean Business Awards. Lomas was also recently recognized as a finalist in San Diego Magazine's Woman of the Year Awards.
Details about the Stevie Awards for Women in Business and the list of honorees are available at stevieawards.com/women.
About Underground Elephant
Underground Elephant specializes in bridging the gap between clients and consumers through vertical-focused, performance-based marketing. Through its proprietary comprehensive technology platform, NeoKeo 2.0™, the company provides a comprehensive campaign management approach that combines cutting-edge technology, data-driven analytics and continually optimized media.
About the Stevie Awards
Stevie Awards are conferred in four programs: the American Business Awards, the International Business Awards, the Stevie Awards for Women in Business, and the Stevie Awards for Sales & Customer Service. Honoring organizations of all types and sizes and the people behind them, the Stevies recognize outstanding performances in the workplace worldwide. Learn more about the Stevie Awards at stevieawards.com.
###