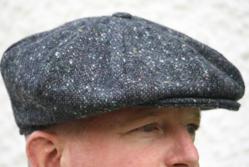 "hand woven in Donegal, Ireland ....from Ireland's shore to your door"
(PRWEB) November 16, 2011
Why Irish made?
Tradition and quality are the hallmark of Hanna Hats.
This traditional family run business has blossomed into one of the most respected producers of handcrafted caps, hats and accessories. Minimalist design and superior craftsmanship are combined to make the designs of Hanna Hats both timeless and elegant.
Nature, beauty and style – Irish people and the natural elements are never far apart. Irish-made products reflect this harmonious tie – all coming from a world where natural beauty reigns supreme and it is here where the inspiration behind Hanna Hats of Donegal lies.
The typical Donegal thatched cottage has a most functional design. It keeps the elements at bay, protects the household against wind and rain, provides shelter and warmth in winter. In summer, it absorbs the sunshine and provides a cooling ambience. This ensures that the cottage tweed weavers who handcraft the Hanna cloth have the perfect conditions year round for their exacting task.
In exactly the same way too, the 'Hanna Hat' provides its' owner with that special cared-for appearance that only a 'Hanna Hat' can. After all, what other hat can look so stylish, so distinguished and so much a part of the wearer.
Every 'Hanna Hat' has a personality of its' own – a personality which customers will feel immediately at home with.
The combination of pure materials, fine detail and immense pride has long characterised Irish craftsmanship, a tradition of excellence passed down for generations. "Irish Made" is recognized world-wide as a term for quality and integrity.
###