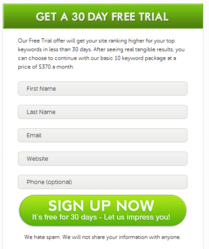 Our hope is to prove our worth before clients pay a cent.
Ottawa, ON (PRWEB) November 18, 2011
Buy Real Marketing Group (BRM Group) sheds some light on one of its ongoing projects: QuickSEOResults.Com. Search Engine Optimization (SEO) is about making small modifications to parts of a website. When viewed individually, these changes might seem like incremental improvements, but when combined, it has a noticeable impact on the site's user experience and performance in organic search results. Because of this high demand, The Buy Real Marketing Group has announced to provide the public with a Free SEO Trial of 30 days of their service.
Quick SEO Results' 30-Day Trial includes: Ten (10) basic keywords, which includes Wordpress Blog Posts, Social Profiles, Forum Links, Web 2.0 Blog Posts, Blog Comments, Bookmarking, Monthly Reporting, and Free Custom SEO Tips. The system works by trying out the service before paying. The team behind Quick SEO Results has a combined 25 years of work experience in online marketing and has undergone Google certification to get to where they are now.
"We want to provide our clients with a 30-day free SEO trial so that they would know that we are providing them with the best service possible. We are confident in our process and past results. It costs us a month of honest work up front to land a long term customer. We have 3 packages to choose from, so they can choose which one will best suit their needs" says Managing Director, JP Bisson. "Our goal is to provide customer satisfaction. We work hard put businesses in front of the people who need your products and services. No other form of advertising allows you to be this focused, and no other form of advertising provides such a high return on investment " states Business Development - Managing Director, Jonathan Kennedy.
In the past, their clients have approached them to troubleshoot problems such as: How to optimize pages to rank higher in search engines to achieve overall impact on e-commerce based sites. Or how to brand a new website to compete with other competitors in a matter of weeks; But the mother lode of problems in this highly advanced technology is to stand out in an over-crowded niche of products. With the help of SEO tools, one can use the web optimally to reach niche audiences across barriers and dominate the search ranking results.
The company has structured their Search Engine Optimization (SEO) packages to fit small business budget while still providing industry-leading results. By quick and measurable results to hundreds of companies, Quick SEO Results has earned a reputation as a top-tier Internet Marketing and SEO consulting firm. To know more about the company, visit their website at http://www.quickseoresults.com.
About QUICKSEORESULTS
QuickSEOResults.com was founded by Jonathan Kennedy and JP Bisson, two well respected Canadian Internet marketers who have helped businesses of all sizes increase internet sales. QuickSEOResults.com has grown from a small, home-based SEO consulting company based in Montreal, Canada to a full-scale international serving SEO powerhouse based in Ottawa, Canada with satellite offices in the Philippines and Hong Kong.
###