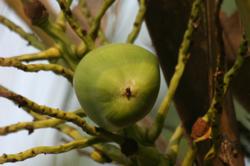 By producing our own food in line with traditional Thai farming techniques, we are able to reduce our carbon footprint, increase biodiversity and provide shelter and food for local wildlife
Chanthaburi, Thailand (PRWEB) November 17, 2011
Faasai Resort and Spa, a small four-star eco resort on the Southeast Coast of Thailand, has been chosen as the best small hotel in the Thailand Green Awards for the second time in the three-year history of the awards.
The awards are arranged by The Tourism Authority of Thailand (UK) and responsibletravel.com, in recognition of the growing environmental awareness of British travelers and interest in green travel. They were presented by HRH Princess of Thailand, Ubolratana at the World Travel Market in London in November.
An outstanding feature of Faasai Resort and Spa is the creation of an organic and edible forest garden, which apart from providing healthy food for staff and guests, helps the environment. "The world is facing shortages of food, fuel and water and climate change. By producing our own food in line with traditional Thai farming techniques, we are able to reduce our carbon footprint, increase biodiversity and provide shelter and food for local wildlife," said the owner-manager of the resort Bronwen Evans.
The resort gardens cover approximately 20 acres, including a nearby sanctuary called White Water Lake. This area of wetlands, natural springs and orchards has a small reservoir that helps protect the local area against flooding and drought. The King of Thailand has described such small reservoirs as "monkey cheeks" referring to the way monkeys store food in their cheeks, and he has suggested that more be built around the country to help prevent a recurrence of the disastrous 2011 flooding in Thailand.
The TAT Green UK Travel Awards are intended to support sustainable tourism development in tandem with the growing concern we all have for our planet said the Consumer Marketing & PR Manager for TAT (UK) Joanna Cooke.
"The awards recognize and celebrate TAT's partners in the travel and tourism industry who have made an outstanding contribution to growing Thailand as a sustainable destination."
The MD of responsibletravel.com Justin Francis said the organization was pleased to support the efforts of local operators committed to responsible travel.
"Thailand has always been famous for the beauty of its pristine beaches and diverse cultures. With these Awards it's great to recognize the determination and commitment of hotels and tour operators to preserve it," he said.
About Faasai Resort and Spa
Faasai Resort and Spa is a 14 room eco-resort at Kung Wiman, Chanthaburi, Thailand about 200 kilometres southeast of Bangkok. The resort is nestled into a forest covered hill amidst tropical gardens. It overlooks the mangrove-fringed Kung Kraben Bay and is a ten minute walk from Kung Wiman beach.
Awards won by Faasai Resort and Spa

Best Small Hotel Thailand Green Awards 2011
Outstanding service to the environment and nature in the Eastern region – Thailand Boutique Awards 2010
Best Small Hotel Thailand Green Awards 2009.
Runner-up in the budget category in the 2008 Wild Asia Responsible Tourism Awards.
###