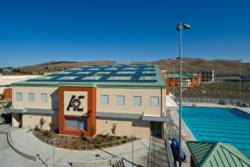 Novato, CA (PRWEB) November 16, 2011
SPG Solar and Quattrocchi Kwok Architects (QKA) successfully installed a 1 megawatt DC ground and rooftop solar power system at Napa Valley Unified School District's, American Canyon High School. This system will generate up to 80% of the campus' electricity at full occupancy and provide a savings of up to $17,000,000 over the next 25 years.
"Through the great partnership with Napa Valley Unified School District (NVUSD) and QKA, this system will provide long term financial savings and hands-on learning for the students about the positive impact of solar power," said Chris Robine, CEO of SPG Solar.
The over 4,000 American-made solar panels, mounted on the school's roof and on a fixed-tilt ground mount system, will produce over 1.1 million kilowatt hours annually, equivalent to providing power to over 105 average American homes annually.
American Canyon High School has been certified by the Collaborative for High Performance Schools (CHPS) – a green building rating system for K-12 school, similar to LEED for Schools. American Canyon High School is the highest ranking CHPS verified school in California.
"The new solar power system at American Canyon High School is an excellent example of NVUSD's leadership. By building upon the sustainable design of their campus and showing their commitment to the environment the District will save a significant amount of money that can now be used for educational purposes," said Aaron Jobson, Principal at Quattrocchi Kwok Architects.
About SPG Solar
SPG Solar is a leading national solar energy company providing distributed solar power systems to large commercial, industrial, government and public energy users. Headquartered in the Bay Area, California, SPG Solar has been delivering the highest quality solar energy solutions to its customers for over a decade. SPG Solar provides the best products and services to clients from the SPG Solar SunSeeker® Tracker, a leading ground mount system generating more solar power, to SPG Solar Structured Finance, a team providing a full array of financial resources and expertise. With over 68 megawatts installed coast-to-coast, SPG Solar is a proven solar partner. For more information on SPG Solar and distributed solar power, please visit http://spgsolar.com.
About Quattrocchi Kwok Architects
Founded in Santa Rosa in 1986, Quattrocchi Kwok Architects (QKA) provides thoughtful collaborative design services to the clients we serve. Celebrating its 25th year in business, the firm has since grown to a staff of 50 who specialize in educational facilities. With over $1 billion in projects, QKA's portfolio reflects a commitment to design that responds to use, climate and the community. QKA is a leader in the area of renewable energy and has worked on over 10 megawatts of photovoltaic projects. Principal Aaron Jobson participated in the creation of the Division of the State Architect's Handbook for Grid Neutral Schools, a practical guide for school districts to eliminate their energy costs. With proven expertise in designing exemplary educational facilities, QKA's recent projects include the new 260,000 square feet, 2,200 student high school in American Canyon and $200 million of renovations to five campuses for the San Mateo Union High School District. For more information visit: http://www.qka.com.
###