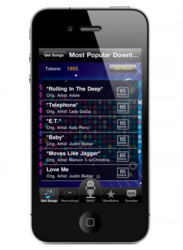 ...fans are averaging over 20 recordings of each song. This is real engagement that fosters a truly intimate connection between fans and great songs.
San Francisco, CA (PRWEB) November 16, 2011
StarMaker, the #1 karaoke app with genuine Auto-Tune, is enabling pop music fans to experience their favorite songs in an entirely new way: singing for themselves. With their growing community now greater than 1 million users, StarMaker has won over fans of Top 40 hits like Adele's "Rolling In The Deep," Nicki Minaj's "Super Bass," Justin Bieber's "Baby," Lady Gaga's "Bad Romance." StarMaker singers spend more than 2.7 million minutes each month making recordings of the songs they love -- that's enough time to sing "Don't Stop Believin'" more than 650,000 times.
StarMaker has also caught the attention of pop artists who see the app as a new platform to engage with their fans and transform their songs into anthems. Musicians like Andy Grammer, whose hit single "Keep Your Head Up" reached #11 on Billboard's Hot AC chart, are giving away recordable versions of their singles on StarMaker and holding contests to find the best fan-recorded version of the song.
"Pop artists are beginning to realize that there's no better way to promote a new single than to get the fans singing it," says Jeff Daniel, Co-founder and CEO of StarMaker Interactive. "We're excited for our current partnership with Honor Society, an emerging band with active Facebook presence of over 130,000 fans. With these contests, fans are averaging over 20 recordings of each song. This is real engagement that fosters a truly intimate connection between fans and great songs."
With a growing library of over 500 popular songs, StarMaker provides casual singers with all the tools necessary to sing, record, and publish recordings, and share them via Facebook, Twitter and email. StarMaker's online community, StarMakerStudios.com, allows users of the app to get encouragement from fellow singers and share their talents with the world. "Our expanding web presence is designed to showcase the enormous amount of talent StarMaker is unearthing," says StarMaker President and Co-founder Nathan Sedlander. "It doesn't matter what you look like or if you can dance. StarMaker is a place to sing your heart out."
Download the free app from iTunes: http://itunes.apple.com/us/app/starmaker-karaoke-auto-tune/id342138881?mt=8
About StarMaker Interactive:
StarMaker Interactive is a leading developer of music-based social media platforms that empower anyone to participate in music creation. Their flagship product StarMaker enables users to sing and share personal recordings of their favorite songs by top artists such as Adele, Justin Bieber, Lady GaGa, Bruno Mars, Maroon 5.  Complete with high quality voice effects and processing, sophisticated game dynamic integration and access to a huge catalog of hit songs, StarMaker stands to revolutionize music engagement. Their other apps include Auto-Tune Birthday and KIDZ Star USA. StarMaker Interactive was founded in 2010 by a pair of music industry veterans and is headquartered in San Francisco.
Connect with StarMaker on Facebook: http://www.facebook.com/starmakerstudios
Follow StarMaker on Twitter: http://www.twitter.com/starmakerapp
###