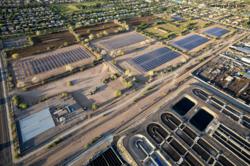 Gilbert is thrilled to be dedicating this system today and applauds the great partnership with those involved on this initiative, said Gilbert Mayor John Lewis
Novato, CA (PRWEB) November 16, 2011
SPG Solar Inc. has completed the construction of a 2.3 megawatt (MW) DC solar power project at the Neely Wastewater Reclamation Facility in Gilbert, Arizona. The system, owned by a unit of Integrys Energy Services, Inc., is installed over existing recharge basins at the reclamation facility and is expected to provide a savings of up to $2 million over the next 20 years to Gilbert.
With more than 8,000 solar panels mounted on the high performing SPG Solar SunSeeker® Tracker, the optimized solar power system will generate more than 4 million kilowatt-hours (kWh) of electricity annually – equivalent to producing enough energy to power more than 430 average American homes for one year.
"Gilbert is thrilled to be dedicating this system today and applauds the great partnership with those involved on this initiative," said Gilbert Mayor John Lewis. "The construction of this solar powered system reaffirms the community's focus on environmental stewardship and further enhances the business case for clean technology companies to operate and invest in Gilbert based on available workforce and local and state incentives."
The solar power system was made possible through a solar power purchase agreement (PPA), arranged by SPG Solar and owned by an indirect subsidiary of Integrys Energy Services, Inc., a company which provides competitive retail energy supply solutions and owns a portfolio of renewable energy assets. The agreement is structured with no upfront capital costs to the municipality, and incentives for the system are being provided by Arizona's largest utility company, Arizona Public Services (APS). The APS Renewable Energy Incentive Program offers financial incentives to customers who add renewable energy systems to their home or business.
"Making solar an affordable solution for the Gilbert community allows them to plan for the future, lock in predictable electricity rates and reduce costs, all with no upfront capital outlay from the town," said Michael Johnson, Vice President Structured Finance at SPG Solar. "By bringing together the right partners and financing options, we are making solar a reality at the Neely Wastewater Reclamation Facility."
About Gilbert, Arizona
Located in the southeast valley of the Phoenix metropolitan area, Gilbert, Arizona is the 7th largest community in Arizona and 97th in the nation by population. With a resident base of 220,000, Gilbert ranks 36th out of the top 100 best places to live in America according to CNN/Money Magazine. Gilbert also has one of the highest ranked K-12 education systems in Arizona and noted as the 5th safest city in the country. For additional details on Gilbert's low operating costs, established high technology employers, incentives and available workforce, please contact the Economic Development Office at econdev(at)gilbertaz(dot)gov or 480.503.6010, or visit: http://www.gilbertaz.gov.
About SPG Solar
SPG Solar is a leading national solar energy company providing the highest quality and most reliable distributed solar power systems to large commercial, industrial, government and public energy users. Headquartered in the Bay Area, California, SPG Solar has been delivering the highest quality solar energy solutions to its customers for over a decade. SPG Solar provides the best products and services to clients from the SPG Solar SunSeeker® Tracker, a leading ground mount system generating more solar power, to SPG Solar Structured Finance, a team providing a full array of financial resources and expertise. With over 68 megawatts installed coast-to-coast, SPG Solar is a proven solar partner. For more information on SPG Solar and distributed solar power, please visit http://www.spgsolar.com.
About APS
APS, Arizona's largest and longest-serving electricity utility, serves more than 1.1 million customers in 11 of the state's 15 counties. With headquarters in Phoenix, APS is the principal subsidiary of Pinnacle West Capital Corp, a public company.
About Integrys Energy Services, Inc.
Established in 1994, Integrys Energy Services, Inc. provides competitive energy supply solutions, structured products, and strategies that allow retail residential, commercial, and industrial customers to manage their energy needs. Its principal energy marketing operations are in the northeastern quadrant of the United States. Through its subsidiary, Integrys Energy Services – Natural Gas LLC, Integrys offers natural gas products to a full range of end-users throughout the Midwest. Areas of generation expertise include cogeneration, distributed generation, renewables such as solar and landfill gas, as well as clean fuel generation, with facilities in selected markets throughout the United States. More information about Integrys Energy Services is available online at http://www.integrysenergy.com.
###