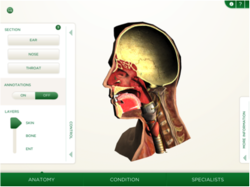 Patient education by Orca Health is better than a second opinion.
Park City, UT (PRWEB) November 16, 2011
Orca Health is proud to announce its latest app for iPad, iPhone and iPod touch, ENTDecide, is now available on the App Store.
The ENTDecide App is divided into three sections: Anatomy, Condition, and Specialist. Using medical images and annotations which are specific to each ear, nose, or throat condition, the app describes each condition, shows what it looks like, discusses symptoms and findings and gives treatment recommendations based on best practices. ENTDecide also provides a directory of specialists based on user's location.
ENTDecide takes advantage of the new AirPlay Mirroring feature in iOS 5, allowing users to stream the app's content to a larger screen. This capability will help doctors in consultation with their patients and teachers with their students, delivering a key educational benefit to the app.
"We are excited to launch our tenth app on the App Store, providing doctors and students with even more valuable content," said Matt Berry, Founder and CEO of Orca Health. "ENTDecide also takes advantage of one of the most innovative features of iOS 5, AirPlay Mirroring, allowing users to stream content to a larger screen for easy viewing."
As with Orca Health's other apps, ENTDecide leverages the full technical capability of the iPad, iPhone and iPod touch to deliver beautiful 3D medical imagery, videos, augmented reality and best-practice recommendations, which help doctors and patients arrive at the best, most cost-effective solution to their medical problems. These solutions increase patient satisfaction and reduce costs for patients, doctors, hospitals and insurers.
The ENTDecide App is available for free from the App Store on iPad, iPhone or iPod touch or at http://www.itunes.com/appstore/.
Press Contact:
Matt Berry
Orca Health
425-298-7442
pr(at)orcahealth(dot)com
###