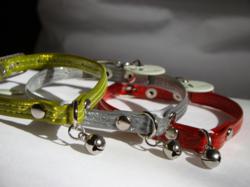 We have a real opportunity to increase nighttime safety for both people and pets," said Kantor. "Vedante's mission is to promote nighttime visibility through highly reflective and durable products that are also fashionable and elegant
Boulder, Colorado (PRWEB) November 16, 2011
It's important to be aware of visibility issues, particularly at night when visibility is limited.
Vedante's dog and cat collars are designed using a proprietary patent-pending technology that provides a level of reflectivity and durability that well exceeds most competitor's reflective dog and cat collars and leashes. The vast majority of products only reflect from 200-600 feet. Vedante's pet collars and leashes reflect up to 1500 feet (500-700 cpl). Because they reflect rather than generate light, the collars require no batteries that could get weak or fail. In addition, your cats and dogs do not look like a flashing traffic light. They are visible only when needed.
Just as with the Vedante POP BANDS™, the pet accessories are made with highly reflective 3M Scotchlite, which glows brightly when light hits it (such as from a car's headlights).
Vedante's Super Reflective Dog and Cat Collars are:

Much more reflective than similar products - up to 1500 feet
Durable & Weatherproof with Break-Away Safety feature
Provides visibility during spring and summer evenings
Free Bonus Glow in the Dark Tag and Bell
3M Scotchlite™ reflective material
Elegant and fashionable
Very affordable
High quality
The dog and cat collars have received an abundance of 5 star reviews from Amazon customers. Amazon customers are saying:

* * * * 5.0 out of 5 stars - "Great Collar": "This is a nice reflective collar without being too bright. The color is similar to the type of reflective material that people wear at night when they're walking/biking. I like the way that the breakaway feature works; the two parts are connected by an elastic band (instead of a breakaway clip that you use to connect the collar around the cat's neck). I think that feature makes it more durable than the other breakaway collars."
* * * * 5.0 out of 5 stars – "Excellent Reflective Cat Collar!": "We have a barn cat that likes to stay outside (even though we try to get him to come inside). He is neutered but likes to hunt. I bought him a red reflective collar as seen here. It also has a glow in the dark round tag that hands from it.
I love the glow in the dark tag as when he does sleep in the house at night.... I can easily see where he is sleeping (he is jet black) and I used to trip over him at night. Just love it!"

* * * * 5.0 out of 5 stars - "My kitty looks like royalty!": "I was a little leery about how this collar would look, but I was pleasantly surprised when I opened the package. It is beautiful and makes my kitty look like the little prince that he thinks he is. Love the collar--highly recommend it"
Barbara Kantor, CEO of Vedante, has developed her line of reflective products with both safety and fashion in mind. "We have a real opportunity to increase nighttime safety for both people and pets," said Kantor. "Vedante's mission is to promote nighttime visibility through highly reflective and durable products that are also fashionable and elegant."
Also available are puppy collars, dog leashes (in both 4' and 6' styles), and super-reflective POPBANDS™ for people and pets who are out and about at night.
About Vedante:
CEO Barbara Kantor founded Vedante in 2006. Barbara's inspiration came during an evening walk when she witnessed a pedestrian being struck by a car. The pedestrian, in a cross walk, was unaware of the driver's inability to see her. Deeply impacted by what she saw, Barbara delved into research on safety and visibility and then studied reflective products that were currently on the market. Barbara's research and her 25 year background in fashion design led to her development of Vedante reflective safety products that are attractive and easy to use.
Vedante is a company committed to saving lives by increasing nighttime visibility and decreasing accidents through education, awareness campaigns, and "fashion that reflects well on you."
Vedante has consistently ranked among the top 10 best sellers in the United States at Amazon.com in its respective categories for super-reflective POP BANDS and pet accessories.
Vedante products are available at Amazon.com and Vedante's new E-Commerce site (http://shop.vedante.com).
For safety tips, deal alerts and fun stories follow Vedante on:
Facebook: https://www.facebook.com/Vedante
Vedante Pet Products on Facebook: https://www.facebook.com/Vedante.Pet
Twitter: @VedanteFDN
###