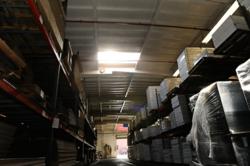 Our employees have noticed a more open feeling around them, making the workplace more enjoyable. - John-Paul Nelson, General Manager
Los Angeles, CA (PRWEB) November 17, 2011
Versa Products, Inc. created a Green Manufacturing and Energy Savings Plan that included replacing the current bulbs in their plant and office space with T8 bulbs, but they went a step further to install skylights creating "skylit zones". Realizing that skylights alone don't save energy, they had controls built into their electrical lighting to balance the use of un-natural light.
"The skylights have permitted areas of the plant and office that would normally not get natural light to do so, as a result we expect a 20 % savings in our utility bill. But that's not the only benefit; it helped operating expenses stay in line which kept the pricing of our products stable during this economy and our employees have noticed a more open feeling around them, making the workplace more enjoyable." John-Paul Nelson, General Manager.
When there is sufficient daylight available. The company may be able to save up to 80% of peak lighting demand and up to 50% of lighting energy in the skylit zones.
Versa Products, Inc. is a private owned American Furniture Manufacturer dedicated to using Green Manufacturing processes to produce high quality furniture, computer tables, medical furniture, PACS, desks, adjustable beds, lighted mirrors, and more since 1996. Their products span across all industries through VersaTables, Thrive Home Furnishing, Elevated Beds, Vanity Girl Hollywood, American Furniture Systems and KT Humancare.
###