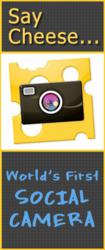 Say Cheese Camera has got the Best Apps Award!"

:- www.bestappsmarket.com, Oct 11, 2011
Orem, Utah (PRWEB) November 16, 2011
The rainapps team got creative to pack uncommon photography and social features into the 'Say Cheese' Android Camera. One of the key features of the free 'Say Cheese' camera, Voice Recognition not only takes pictures on command, but it also zooms on voice command as well. With the Voice Recognition feature, you control when the picture is taken. Setting the self-timer for a picture and trying to make it front and center is now unnecessary. With 'Say Cheese' Voice Control, take the picture when you are ready. Fuzzy pictures? Voice Recognition eliminates shaking and saves great pictures from doom. Just setup your device on a solid surface and take your picture the no touch way – just grin and "Say Cheese"! Perfect!
"The voice feature is brilliant. I've had so many problems trying to take self pictures before but this solved it."
~ Android Market Review
The free Say Cheese Camera App for Android devices is developed by rainapps, llc. Launched in 2010, rainapps successfully blends technology and creativity together and has already published two free Facebook applications, rainFrames and rainSlides, with more to be released in Q4. An IOS version of Say Cheese is in the works. The Founder of rainapps llc. prior endeavor, helped propel a creative and technical product to the distinction of the #1 infomercial product nationally. The development team combines over 50 years of technology experience.
###