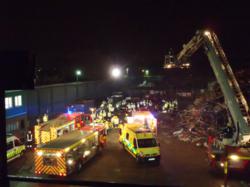 We value the opportunity to be involved in something so important and have been working hard on the lead up to this event to make sure we create the most realistic scenario possible
Wiltshire,UK (PRWEB UK) 16 November 2011
Wiltshire Fire & Rescue Service will be holding a major exercise in Swindon on 7th November to test its response to a large scale road traffic collision (RTC's).
The exercise will be carried out in conjunction with Great Western Ambulance Service (GWAS), 16 crew members will be attending the realistic scenario, which captures the amount of resources that the Ambulance Service require for RTC's with multiple persons trapped and injured.
Watch Manager Mark Evans from Green Watch at Stratton fire station, who is organising the exercise, explained: "We are being hosted by EMR [European Metal Recycling] in Gipsy Lane, and they will be supplying the vehicles, as well as recreating the crash and impact damage. The scenario will have multiple vehicles, with at least eight people trapped, and we will have a mix of live and dummy 'casualties' . We are very grateful to EMR for all the support they are giving us as opportunities like these are very difficult to recreate and Tom Perry from EMR has embraced this opportunity of working in collaboration with the Fire Service and the exercise promises to be a significant test of our procedures."
He added: "We will be looking at how our own crews work together when there are several vehicles involved in an incident, but it will also be a fantastic opportunity to work with our colleagues from the Ambulance Service and we have taken advise from Chris Bull a Paramedic from Swindon Ambulance Station to ensure that the injuries are a true reflection of those sustained at an RTC and he has assured me that this will be a very challenging incident for the attending crews . EMR has promised us a very realistic scenario, so it should be an informative experience for everyone."
Fire appliances and crews from Stratton, Swindon, Ramsbury, Wootton Bassett and Marlborough are expected to be in attendance, plus specialist support appliances from Stratton and Swindon.
GWAS paramedic, Chris Bull said: "Attending large scale RTCs can be a stressful, daunting challenge and the opportunity to practice this type of incident is invaluable to our crews. The simulated casualties at the exercise will display injuries that will challenge both ambulance and fire staff.
"The exercise will give staff the experience of maintaining a patient's medical status with the complication of rapid, safe extrication from damaged vehicles. This type of exercise is crucial so that we can share experiences between both ambulance and fire staff, enhancing how we work together to provide the best care for our patients."
EMR General Manager Peter Maguire said: "We value the opportunity to be involved in something so important and have been working hard on the lead up to this event to make sure we create the most realistic scenario possible. Our Swindon based recycling centre employs many local people making it even more important to us that we 'give back' to the local community where possible. Tom and his team have done a great job and I'm sure the event will be a huge success and a valuable experience for all those participating."
About EMR
EMR (European Metal Recycling ) are a multinational recycling company with operations in over 130 countries. They provide scrap recycling services for end of life consumer goods such as cars and washing machines, but also have specialist recycling capabilities in areas such as industrial clearance, ship breaking, and environmental consultancy.
More information can be found on their website
http://www.emrltd.com
###