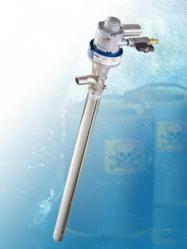 Woking, Surrey (PRWEB UK) 18 November 2011
In many liquids handling applications, safe and efficient transfer of acids, chemicals and corrosive liquids from tanks, drums , IBCs and carboys is best achieved using a drum pump. Finish Thompson are acknowledged as a leading manufacturer of these types of pumps and their new EF Series is a competitively priced extension to their extensive range of drum pumps and barrel pumps. The EF range is a perfect alternative to hand pumps, providing a clean and efficient method of liquids transfer in applications such as water treatment, surface treatment and finishing processes.
Available in the UK from pumping specialists, MICHAEL SMITH ENGINEERS, the new, compact EFS pump is available with a choice of two-speed splash-proof electric motor or variable speed air motor. The pump features a 316 SS tube and shaft, with tube lengths of 16", 27", 40" and 48" (41cm, 69cm, 102cm, 122cm) so it's suitable for pumping out most sizes of tanks, drums and carboys.
With the addition of a stainless steel tube assembly to the range of polypropylene and pure polypropylene/pure PVDF tubesets already available, the EF Series of drum emptying pumps and barrel emptying pumps can be used for transferring a wide range of commonly available chemicals. The EF pumps are suitable for light to medium duty applications and provide flow rates up to 64 lit/min at discharge pressures up to 6 metres.
Michael Smith Engineers Ltd are the UK's leading supplier of specialist pumps for difficult liquid handling applications since 1971 and have promoted the Finish Thompson range of drum pumps in the UK for over 30 years.
Further details are available from:
Michael Smith Engineers Ltd,
Oaks Road, Woking, Surrey, GU21 6PH, UK
Tel: FREEPHONE 0800 316 7891. Fax: 01483 723 110.
Email: info(at)michael-smith-engineers(dot)co(dot)uk
###