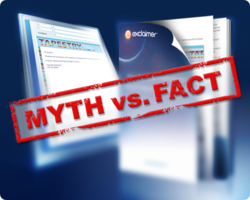 Every interaction, at least partly, occurs through email
(PRWEB UK) 18 November 2011
A 38-page paper on good email signatures has been launched today that will end a flood of bad corporate email branding, claim email signature experts Exclaimer.
They've created a top ten list of failed email signature tips, to accompany the paper and help readers start spotting the pitfalls of signature design.
1: Use Plain Text, No Images - Myth!
'This is a double-edged sword' explains Peter Jones, web trends researcher.
'Some firms are right to keep it simple, but restricting it to plain text doesn't just look amateur – it looks lazy.
'More staid firms should use minimalist branding, just a small logo with one or two colors will look respectable but professional – without looking primitive.'
2: Exclude Email Addresses - Myth!
'This is a key function of the email signature – if your mail has been forwarded, any recipient will rely on its contact details to get in touch.
'If the 'From' address is reduced to your name as it's forwarded – kareng(at)greenorg.net to 'Karen Green' – having your full email address in a signature is crucial.'
3: Use an Internal Version - Myth!
'This is only wrong because it doesn't go far enough: create one for new clients, one for replies, etc. – use different signatures to augment the message in any scenario.
'Familiar contacts don't need full-on branding but they may still want some elements, like a fax number, that don't belong on a reply – so use a simpler version for long-standing clients.
'Even colleagues may need your signature – add your floor number, phone extension or job title. Adjusting your signature to suit the occasion goes well beyond internal mail.'
The tips are meant to dispel myths, Exclaimer argues, giving readers an understanding not just of the technology, but of their own needs – not misinformed rules.
All ten can be found on their page [Top Ten Myths About Email Signatures.
They're inspired by Exclaimer's white paper, [How To Make Professional Email Signatures That Work, a 38-page guide to building and designing good signatures.
The guide includes research on the best aesthetics, the best coding methods, and the best strategies for any industry – from construction to tourism.
It references articles and journals on web marketing and email signatures, but also draws upon brand guidelines from some of the world's largest companies.
Exclaimer's CEO, Andrew Millington explained, 'Why allocate so much time and money to business cards when I give out one a year but send fifty emails each day?
'Every interaction, at least partly, occurs through email: by giving it the same brand identity I give my business cards, everyone gets that impact.
'For ten years and for 35 million users, our software has meant less work, less effort, more time and more power – we wrote this paper to provide all that, in 38 pages.'
###