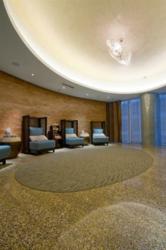 Chicago, Illinois (PRWEB) November 17, 2011
Two notable Chicago, Illinois firms have recently installed GLASS RECYCLED flooring and countertop materials as part of their overall interior design projects – adding to the long list of companies world-wide that are embracing the benefits of this stunning and environmentally-friendly material.
The Dana Hotel and Spa is Chicago's newest boutique establishment, featuring 216 rooms located just a ten minute walk to Magnificent Mile and the Museum of Contemporary Art. GLASS RECYCLED flooring material graces the spa and lobby area, making a definite statement of luxury for this upscale hotel. Thomas Interior Systems custom-designed a beautifully curved reception desk using a combination of red, grey, black and mirrored GLASS RECYCED materials. The firm is noted as the original dealer for the famed Herman Miller office furniture in Chicago and offers over 300 lines of seating, private offices, workstations, conference rooms and more.
Both The Dana Hotel and Thomas Interior Systems support the vision of GLASS RECYCLED – a Texas company that creates environmentally-friendly floor and countertop materials from recycled glass and porcelain products – as it rapidly is becoming a viable alternative to marble, granite and tile products.
According to Tim Whaley, Founder of GLASS RECYCLED and developer of the company's patented process, "Top level firms have begun to use our products for a number of other notable projects including Nike, Whole Foods, PepsiCo and others. We work with a number of architects and professional designers across the country who loves specifying both our GlassSLAB kitchen countertop and GlassPLANK flooring material products because they are the only recycled glass choice that comes in unlimited color combinations and at the same time adds much-desired points to their LEED certification totals."
GLASS RECYCLED turns broken glass, porcelain and mirror into stunning floors that are affordable for both homes and businesses. Over 400 different material and color combinations have already been formulated and can be viewed online at glassrecycled.com, but designers can also create one to their own exact specifications. Every order is custom made from any combination of 13 different glass colors – each available in a number of chip sizes – then combined with a durable epoxy to match any paint color. The final GlassSLAB product is beautiful and durable, requires no seal, is scratch resistant, requires no wax and can be easily maintained with neutral cleaners.
"We urge designers to visit our new Designer Showcase on our website to custom create their own sample. Also, if they have a schematic with project with measurements, we can assist with calculating the number and size of GlassSLAB Tops GlassPLANK Tiles needed." Whaley added.
GLASS RECYCLED products are very similar in durability, lifespan and beauty to other hard-surface options, but make a significant artistic and environmental statement. Every other material has to be mined and removed from the earth; whereas GLASS RECYCLED products respect the earth by reusing glass and porcelain products that would otherwise take up to 100 million years to decompose in landfills.
In addition to GlassSLAB, the company also offers materials suitable for kitchen countertops, bath vanities and shower areas, a crushed glass product that can be used in place of landscape mulch and also a decorator line that enables designers to create anything their mind can imagine from tables, artwork, and specialty décor item.
Visit the GLASS RECYCLED website at glassrecycled.com or call 888.523.7894 for more information on their various recycled glass products for commercial and residential use.
###