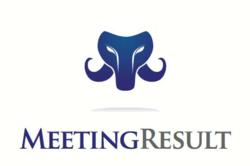 Organizations can no longer afford to have employees assemble in unproductive meetings for hours on end, only to leave the meeting with uncertainty about key takeaways, deliverables and accountability. - Peter Kidd, Co-Founder of MeetingResult LLC
McLean, VA (PRWEB) November 18, 2011
Combining the simplicity of the iPad with industry proven best practices, MeetingResult for the iPad enables project managers and business professionals to consistently deliver quality business meetings by maximizing the productivity, clarity and accountability within today's business meetings.
"The daily waste of human and capital resources that is occurring in our business meetings today is staggering and inexcusable". Comments Peter Kidd, Co-Founder of MeetingResult LLC".
MeetingResult for the iPad automates the essential planning, execution and reporting elements of business meetings, and focuses meeting managers on ensuring productive use of stakeholders' time with clear results and accountability. Additionally, with integrated time tracking, audio recording, and integration with Dropbox, Google Docs and Evernote, MeetingResult for the iPad brings a 21st century solution to an age old business problem.
"MeetingResult is leveraging technology to revolutionize business meeting productivity." Says Bryan Field, MeetingResult LLC Co-Founder. "Coming soon on the technology front is a web application release that will expand MeetingResult to any Internet connected device, automated speech to text conversion, and workflow capability to help manage assignments made during business meetings."
###