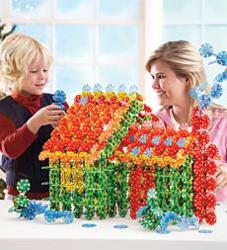 Give the gifts of learning, playing, doing and growing!
(PRWEB) November 16, 2011
Toddlers learn all things at a fast pace so a unique selection of toys and games can inspire your toddlers' imaginations, while they learn and grow. Pyramid of Play Blocks for example can offer endless hours of fun. Wooden nesting blocks feature fun graphics and colors, providing different learning opportunities that help kids with recognition of letters, pictures, colors, numbers and sizes. Toys for toddlers can offer a head start to life by giving the experience of learning through play. Play at all stages of a child's development instills wonder, a delight filled sense of accomplishment and helps develop self awareness which provides opportunities for social growth.
It is important to always encourage creative play with children. This will allow them to use their imagination and create endless possibilities for themselves. Creative play can take many directions, but one of the best ways to develop hand-eye coordination and logic skills is with creative building kits. Connectagons® Sets appeal to many ages and are even a great way for parents and children to spend time together. With these wildly colorful, wooden, interlocking shapes they can create whimsical works of "art" that are limited only by the imagination.
Quality children's toys, games and crafts can last years and years to be passed down through generations. Parents who found unique toys for their children decades ago are now thrilled to find the same kinds of educational, entertaining toys to give to their children's children.
With the holiday's right around the corner be on the lookout for quick, easy ways to shop and find fun, intellectual Christmas Toys. While carefully selecting these wonderful toys, remember how important active play can be. The great outdoors offer many opportunities for kids to get moving. Active toys give them the foundation for building strength, stamina, self-esteem and social skills, whether they choose to be a team player or have an active outdoor adventure alone.
Most families are on the lookout for Christmas gifts for boys and girls. From their "big" ticket item requested from Santa to the stocking stuffers they've come to love. Find new and exciting toys like the Buddy Bumper Balls for active play with a friend. A child wears the full size inflatable ball and uses it like a bumper car to bounce off of things and other children wearing them. Children can junp around for hours and never realize s/he is geting exercise. HearthSong has been committed to helping parents follow their instincts to provide their children with age-appropriate, wholesome, quality, fun playthings. Offering books, crafts, games, apparel and so much more.
About HearthSong
HearthSong since its beginning in 1983 has been committed to helping parents follow their instincts to provide children with age-appropriate, wholesome, quality playthings. They believe childhood is a vital chapter in life-a special time when children can be occupied with the joy of being children. The name HearthSong was chosen to reflect core family values - the Hearth, a traditional symbol for the center of the home, and Song, a symbol of family spirit and of a special playfulness that parents and children enjoy together. Each item is carefully selected for its quality, safety, and relevance to your child's development and they are steadfast in their commitment to provide you with Toys You'll Feel Good About Giving®. Every item sold is backed by a 100% satisfaction guarantee. HearthSong in a part of the Plow & Hearth Family of Brands which also includes quality toys from Magic Cabin®, weather instruments from Wind & Weather®, innovative solutions from Problem Solvers® and unique home and garden décor from WinterthurStore®.
###