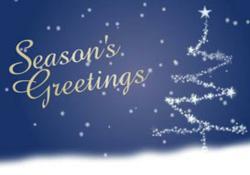 Business Christmas ecards are a highly efficient way for businesses to communicate with their staff, customers and clients and the positive results are influencing many marketing professionals to send them.
Teddington, Middlesex. UK (PRWEB) November 17, 2011
The planned developments on the Katie's Cards' website, which were announced in the summer, have now been launched within the corporate section of the website. The developments have been made to the automated corporate e card system and include many useful new functions that have been designed to make the process of ordering an automated e card easier, just in time for the busy corporate Christmas ecard period.
The developments on the website include improvements to the existing system, with the addition of completely new features including:

The addition of an extra message box which allows customers to choose from a selection of fonts, sizes and colours for their heading message (for example a customer may want to use a large red font to wish their customers a Merry Christmas) and then separately choose either the same or different font, colour and sizes for their personal message (or choose a font of the same style and colour but a smaller size to say 'from everyone at ….').
A bulk upload function has been added to the website to enable the quick import and edit of mailing lists.
A testimonials page and a list of previous customers have both been added to allow users to see endorsements from previous customers and companies who have sent Katie's company ecards.
HTML emails have been added to the service so that recipients of Katie's Ecards business ecards will receive an attractive email notice rather than a text based email.
The website is now able to take payment from the following currencies: Sterling, Euro, American, Canadian and Australian Dollars.
The addition of the custom card contact form enables users to send an enquiry with basic details to receive more information about the bespoke corporate ecard service.
Alongside the new developments, Katie's Cards is in the process of preparing for the busy Christmas period by releasing brand new corporate Christmas e cards to the collection. Working on bespoke e card projects for a number of high profile clients, they are also in the final stages of developing two bespoke corporate e card micro sites for large corporate clients based in Scotland and Canada.
The existing collection includes the fun e card game, 'Lob the Leader' in which the player has to throw snowballs to hit the targets, which are members of the British government who randomly pop up in various parts of the screen from behind Christmas trees and snow-covered rocks. The tasteful 'Red Christmas Lights' card is also included in the large collection of over 45 different static and animated corporate e cards. The card cleverly sends seasonal greetings without being overtly religious or Christmassy which is a smart choice for those wishing to send greetings and avoid offending customers or clients.
Other corporate ecards in the collection include the humorous 'Turkey Breakout' 1 and 2 e cards, which both feature turkeys trying to escape their fatal festive destiny, a 'Snowballs' card with a snowball throwing snowman, a traditional card called 'Christmas Carols' and a selection of traditional, non-traditional and generic cards which are suitable for all business needs.
The new developments ensure that ordering a business Christmas e card from Katie's Cards is a quick and easy process, offering companies a cost and time effective solution. Business Christmas ecards are a highly efficient way for businesses to communicate with their staff, customers and clients and the positive results are influencing many marketing professionals to opt for this form of communication, using this service as a way to re-engage with their audience throughout the year, sending birthday e cards as well as thank you e cards.
Katie's Cards have helped many large and small companies organize their Christmas e cards and can help with any query or problem that you want to discuss. Something to suit all budgets from static, animated or bespoke designs, all of which will incorporate a company logo, message and a web link. The cards deliver low-cost, quick and environmentally friendly solutions for businesses of all sizes and are an original and entertaining way to communicate with customers. More information about the service can be found at katiescards.com/company/
For more information:
Telephone: +44 208 274 2069
Facebook: facebook.com/Katies.ecards
Twitter: twitter.com/#!/katiedavies
Copyright information: This article is free for reproduction but must be reproduced in its entirety, including live links & this copyright statement must be included. Visit katiescards.com for more services!
###