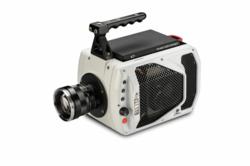 Wayne, NJ (PRWEB) November 16, 2011
Vision Research, a leading manufacturer of high speed digital imaging systems, today announced that its Phantom® Flex v1610 digital high speed camera received a 2011 Best of What's New award from Popular Science.
Popular Science, the world's largest science and technology magazine, chooses 100 innovative tech products and gadgets each year to be included in their annual Best of What's New issue, the magazine's best-read issue of the year. Awards are distributed among the top 100 products in 11 various categories, including Automotive, Gadgets, Home Entertainment, and Home Tech.
"Being recognized as a winner of the Best of What's New award is an honor, and a testament to the hard work and ambition of the entire Vision Research engineering team," noted Rick Robinson, Division V.P. Marketing, Vision Research. "We at Vision Research take pride in bringing ground-breaking tools to scientists, researchers, engineers, and others who need to see events too fast for the human eye and yet too important to be missed. Being awarded for the work we do motivates us to continue to strive to bring more cutting-edge products to the market in the future."
Named one of the top products by Popular Science in the Home Entertainment category, the Phantom Flex v1610 is capable of shooting over 16,000 full-resolution images each second, making it the world's fastest 1 megapixel camera. The camera features a high-definition and a widescreen 1280 x 800 CMOS sensor. At reduced resolutions, the camera can take up to 1,000,000 pictures each second. At those speeds, extremely fast events can be slowed down to reveal never-before-seen physical phenomena.
About Best of What's New
Each year, the editors of Popular Science review thousands of products in search of the top tech innovations of the year; breakthrough products and technologies that represent a significant leap in their categories. The winners — the Best of What's New — are awarded inclusion in the much-anticipated December issue of Popular Science, the most widely read issue of the year since the debut of Best of What's New in 1987. Best of What's New awards are presented to 100 new products and technologies in 11 categories: Automotive, Aviation & Space, Computing, Engineering, Gadgets, Green Tech, Home Entertainment, Securities, Home Tech, Personal Health and Recreation.
About Popular Science
Founded in 1872, Popular Science is the world's largest science and technology magazine; with a circulation of 1.3 million and 6.8 million monthly readers. Each month, Popular Science reports on the intersection of science and everyday life, with an eye toward what's new and why it matters. Popular Science is published by Bonnier Active Media, a subsidiary of Bonnier Corporation.
About Vision Research
Vision Research designs and manufactures high-speed digital imaging systems used in applications including defense, automotive, engineering, science, medical research, industrial manufacturing and packaging, sports and entertainment, and digital cinematography for television and movie production.
The Wayne, N.J.-based company prides itself on the sensitivity, high-resolution and image quality produced by its systems, robust software interfaces, and reliability and versatility of its camera family – all which continue to stand as benchmarks for the high speed digital imaging industry. Known for its innovations in high-speed digital camera technology and sensor design, Vision Research has received numerous research and development awards as well as honored with an Emmy® Award for its revolutionary technology and engineering.
Vision Research's broad line of digital high-speed cameras, marketed under the Phantom® brand, add a new dimension to the sense of sight. They are used as innovative engineering tools, enabling users to visualize and analyze physical phenomena when it's too fast to see, and too important not to™. For additional information regarding Vision Research, please visit http://www.visionresearch.com.
Vision Research is a business unit of the Materials Analysis Division of AMETEK Inc., a leading global manufacturer of electronic instruments and electromechanical devices.
###