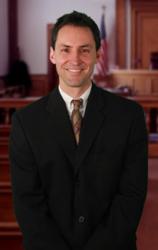 Respondeat superior ensures this relationship (between employer and employee) is kept both safe and legal.
Tyler, Texas (PRWEB) November 16, 2011
http://www.injurylawyersoftyler.com/
The Tyler trucking accident attorneys of Grossman Law Offices have filed suit against a trucking company following the death of Debra Bell. The suit (Cause No. 83964-422) was filed in the Judicial District Court of Kaufman County, Texas and alleges the Defendant J.S. Helwig and Sons LLC, played a role in the deadly accident.
According to the suit, on or about September 15, 2010, Bell was a passenger in an 18-wheeler which was owned by J.S. Helwig & Sons LLC, and operated by an employee of the Defendant. The lawsuit alleges the truck driver "left the roadway, traveling approximately 380 feet in the median before striking a tree." As a result of the collision, passenger Bell suffered an "extremely frightening and agonizingly painful set of events that culminated in her death."
The suit claims J.S. Helwig & Sons LLC is vicariously liable by "virtue of the negligent conduct of its driver/employee/agent," and notes the truck driver was "acting in furtherance of the busines of his employer and/or master."
Texas 18-wheeler accident attorney Keith Purdue remarks, "When an employee is acting within the normal scope of their employment, in this matter completing a haul, an employer could be vicariously liable for their actions, on the basis of agency law and respondeat superior."
Big rig collision lawyer Jerrell Wise continues, "Keith is correct, an employer is and should be answerable to the conduct of their employees. If this were not the case, conceivably a boss could order their workers to do a number of questionable acts without any recourse. Respondeat superior ensures this relationship is kept both safe and legal."
About Grossman Law Offices:
The Texas truck wreck attorneys of Grossman Law Offices have developed a reverence around the legal community for their success handling trucking accidents. With a home base in Dallas, and satellite offices in Houston, Austin, Tyler, and other major cities, the fatal truck accident lawyers of Grossman Law Offices help victims of trucking accidents across the nation.
###