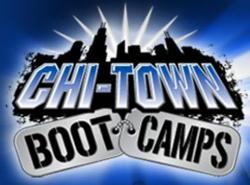 Chicago, IL (PRWEB) November 17, 2011
According to Craig Kastning, a Chicago based fitness trainer, December can be a terribly fattening time of year, with all the work Christmas parties, Christmas cookie baking, and family get-togethers. In fact, the average person gains a pound of pure, hard-to-lose fat during this month. Worse yet, people who are already overweight gain an average of 5 pounds over the holidays. Craig Kastning, Chicago Personal Trainer and owner of Chi-Town Boot Camps, offers a few tips for Chicagoans who are looking to survive holiday parties without gaining too much weight.
"During my one-on-one counseling sessions with people, we develop a step-by-step customized nutrition cheat sheet. I literally plan a step-by-step program for my clients. We don't believe in fad diets, packaged meals or starvation. We like to eat too! Instead, we aim for something realistic and nutritious that people can stick to." The Chicago gym adds that the key to avoiding weight gain over Christmas is not skipping all cookies and desserts altogether, but eating a smaller portion instead. Complete abstinence from sweets can lead to binging later.
Here are 10 other tips to avoid holiday weight gain from a certified personal trainer in Chicago:
1. Eat a 100-200 calorie snack that combines a protein with a carb before attending parties. Good choices include apple slices with peanut butter, a cheese stick and baby carrots, or low-fat yogurt and a quarter cup of granola cereal.
2. Choose that one high-calorie indulgence – be it a slice of pumpkin pie or a glass of egg nog – and fill plates with low-calorie vegetables and fruits the rest of the night. It's best to select something seasonal that is a true treat, rather than mashed potatoes or something that can be eaten any time.
3. Avoid licking the spoon while baking. This little indulgence costs people 300 calories a pop!
4. Don't use a morning run as an excuse for second helpings. Many people overestimate the amount of calories they burn during exercise and underestimate the amount of calories they eat.
5. Focus on socializing as the heart of the party, rather than food. Talking with relatives away from the buffet table avoids overindulgent snacking. Many families take pre or post-dinner walks together to prevent lethargy and burn off excess calories.
6. Drink one glass of water for every other beverage consumed to avoid drinking too many calories.
7. Start off the meal by putting just one or two bites on the plate to decide where the calories are best spent.
8. Avoid or limit sauces, which add (often) unnecessary calories to each dish.
9. Slow down. Put forks down between bites. Chew slowly. Savor moments of conversation.
10. Keep working out during the holidays. Any movement is good movement, but aim for rigorous interval training the day before a holiday party to burn more calories for the next 24-48 hours.
Chicago personal trainer Chris Kastning is offering a week of free boot camp sessions, along with a personalized nutrition and exercise program for just $1, as part of a special holiday promotion to help people prevent December weight gain.
About The Company: Chi Town Boot Camps is a chicago weight loss that is committed to helping people reach their ideal health and fitness goals. The company prides itself on having professional and experienced personal trainers who are committed and genuinely concerned with clients and the achievements of their objectives. Each individual is different, so the exercise programs are customized based on individual fitness goals, health history and current health condition. Chi Town's fitness boot camp programs are unique and exclusive and are consistently reviewed to maintain the highest possible standards. All programs come with a 100% money-back guarantee. Please visit http://www.chitownbootcampsblog.com for more information.
###