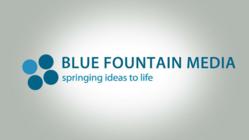 New York, NY (PRWEB) November 18, 2011
Blue Fountain Media has been awarded a General Services Administration (GSA) Federal Supply Schedule Contract to supply diverse digital products and services to federal agencies.
Under GSA Contract GS-07F-0726X, Blue Fountain Media can provide a wide variety of web based marketing services including:

Marketing Consulting Services (541613)
Computer Services: Small Business (541519)
Computer Systems Design: Small Business (541512)
Custom Computer Programming: Small Business (541511)
Internet Publishing, Broadcasting and Web Search Portals: Small Business (519130)
Data Processing Hosting and Related Services: Small Business (518210)
Electronic Shopping: Small Business (454111)
This broad authorization demonstrates Blue Fountain Media's expertise in a wide variety of programming, designing and marketing fields.
Under this five-year contract, Blue Fountain Media will be able to work on projects ranging from social media campaigns to website re-designs to advanced search engine optimization projects.
Blue Fountain Media's other certifications include:
GSA Pathway to Success
GSA Marketing I
Green Compliant
Google Analytics
Google Adwords
SBA, Small Business- Minority Owned
Section 508 Certifications
Designing Accessible Websites
Accessible Video and Multimedia
Building and Buying Accessible Software
Blue Fountain Media is an award winning Web design, development and online marketing company. Their expert team of designers, developers, marketers, communications specialists, project managers and business developers focus on creating beautiful, functional websites that are specifically designed to increase an organization's online return on investment.
Blue Fountain Media has a proven track record of hitting deadlines, staying on budget, and fostering a pro-active approach to client relations. After interviewing many of their clients, Dun & Bradstreet awarded Blue Fountain Media with their 5-Star rating for outstanding service and quality.
Blue Fountain Media's marketing department delivers some of the highest returns on investment of any agency in the world. For a sample of the the companies search engine optimization expertise, simply Google "website design company."
By producing work of the highest caliber and through the creation of some of the most innovative and effective website development and online marketing campaigns available, Blue Fountain Media has grown from a one person web design and online business consultancy in 2003 to more than 150 employees with offices in the United States and Europe.
"It is an honor to be able to serve the digital needs of the federal government," said Blue Fountain Media CEO and Founder Gabriel Shaoolian. "We have a long track record of helping businesses to succeed in a highly competitive online world. We now have the same opportunity to help government agencies communicate internally, with other agencies, with constituents and with global partners.
"In the global marketplace of ideas and commerce, it is essential that you deliver your key messaging in a clear and effective manner."
Founded in 2003 by Gabriel Shaoolian, Blue Fountain Media has quickly become one of the leading web design, development and online marketing agencies in the world. Blue Fountain Media's client list includes a number of government entities, both domestic and international. This group includes:
The United Nations
The United States Mint
The New York Police Department
The Netherlands Embassy
The European Union
The prestigious list of non-governmental clients includes HarperCollins, the National Football League, the New York Yankees, Nike, O: The Oprah Magazine, Public Broadcasting System (PBS), Petco, OppenheimerFunds, Smarties, Sotheby's, and Walt Disney Resorts.
"It is gratifying to be recognized as one of America's fastest growing companies," Shaoolian said. "This kind of growth, in such a difficult economic time, is the result of the work of the most remarkable people I've ever had the chance to work with. The Blue Fountain Media team is not only talented, but tenacious. No one is satisfied until we have produced the highest possible quality work for our clients.
"More importantly, this honor is a reflection of the fact that we go above and beyond for our clients, delivering results that significantly enhance their businesses."
In the past twelve months, Blue Fountain Media has won over 20 major design and marketing awards and has been featured in publications including The New York Times, Wall Street Journal, USA Today, Inc., Crain's New York Business and Bloomberg BusinessWeek, and has contributed expert guest columns to The New York Times, BNET and Amex Open Forum.
About Blue Fountain Media
Blue Fountain Media is an award-winning results-driven website design, development and online marketing company based in Manhattan, New York. The company provides comprehensive services including branding (logo design, letterhead, promotional materials), communications (press releases, online reputation management, copywriting), and all aspects of online marketing (search engine marketing and optimization, and online reputation management. Founded in 2003, the company is located at 102 Madison Avenue, 2nd Floor, New York, NY 10016. Tel: 212-260-1979. Fax: 1-800-278-0816. To learn more about the firm and its web expertise, please visit http://www.bluefountainmedia.com
About GSA
GSA provides a centralized delivery system of products and services to the federal government, leveraging its enormous buying power to get the best value for taxpayers. Founded in 1949, GSA manages more than one-fourth of the government's total procurement dollars and influences the management of $500 billion in federal assets, including 8,600 government-owned or leased buildings and 208,000 vehicles.
###