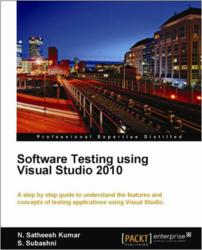 UK (PRWEB) November 20, 2011
Birmingham: Packt Publishing is pleased to report that Software Testing using Visual Studio 2010 is available to Kindle users on Amazon's Kindle Platform. The Kindle eBook represents a step by step guide to understanding the features and concepts of testing applications using Microsoft Visual Studio 2010 and is a valuable addition to the bookshelf of Visual Studio professionals.
What is Microsoft Visual Studio? Microsoft Visual Studio is an Integrated Development Environment, from Microsoft, widely used for the development of applications, websites, and web services across a variety of platforms including: Microsoft Windows, the .NET Framework, and Microsoft Silverlight. Software testing represents an important part of the development and implementation process when using VS.
The book starts with a look at different types of tests. It then goes about explaining examples with a step-by-step approach to master concepts and the features needed to help the reader understand testing clearly. Developers, Software testers, and Architects who need to master the range of features offered by the Visual Studio 2010 for testing software applications will find this book to be a worthy addition to their bookshelves.
The book introduces readers to the main types of testing available in Visual Studio for both desktop and web applications, and then walks them through deploying, running, and interpreting the results of tests. Specifics include the utilization of test manager for creating test plans, test suites and requirement based test suites, the creation and customization of code from the action recording, web performance testing, and much more.
Full book details can be found on the Packt Website.
Packt Publishing is a world leader for publishing Microsoft focused titles for IT Professionals. Packt has published several titles into the Microsoft Visual Studio space, including:
1. Microsoft SharePoint 2010 Development with Visual Studio 2010 Expert Cookbook
2. Refactoring with Microsoft Visual Studio 2010
3. Microsoft Visual Studio LightSwitch Business Application Development
About Packt Enterprise. Packt Enterprise is the publishing division of Packt that seeks to serve the informational needs of IT Professionals who live and work with Enterprise software. To date, more than 100 Microsoft books have been announced or published, and the 2012 pipeline promises more than 40 new Microsoft titles.
###