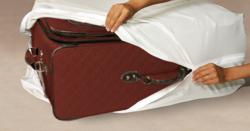 Renowned as "hitch-hikers", bed bugs are dependent upon man to travel from place to place. It's possible for you to transport bed bugs to other rooms, floors or locations, often unknowingly.
Atlanta, Georgia (PRWEB) November 16, 2011
Mattress Safe's® SuitcaseSafe™ protectors offer a simple and cost effective solution to protect your luggage against bed bugs this holiday travel season. SuitcaseSafe™ protectors can be used when travelling, encasing luggage at the travel destination and protecting it from bed bugs.
Well renowned as hitch-hikers, Bed bugs are a people problem and not a building problem. Business or vacation travel is a common trait shared among homeowners experiencing a bed bug infestation, and theses "equal opportunity" pests may be encountered in five star hotels as well as lower end locations.
The LaundrySafe™ travel laundry bag by Mattress Safe® offers an additional layer of protection against bed bugs. When traveling, soiled laundry can be safely sealed in the reusable LaundrySafe™ bag and transported directly to the washing machine upon return from vacation. A wash at temperatures over 115 degrees Fahrenheit not only cleans your laundry but kills any hitch-hiking bed bugs, protecting your home form unwanted travel guests.
BedBugGeneral.com, an informational resource on bed bugs, offers a detailed list of tips on how to inspect for and avoid bed bugs while traveling.
For more information about Mattress Safe's® SuitcaseSafe or LaundrySafe™ encasements and other Mattress Safe® products , please visit http://www.mattresssafe.com or call 1.888.405.5335.
###