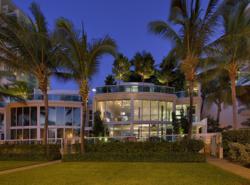 Probably one of South Beach's finest townhomes
Miami Beach, FL (PRWEB) November 17, 2011
Zilbert Realty Group, a premium real estate brokerage firm based in Miami Beach, Florida, announced today the availability of a 3000 square-foot townhome along South Beach's famed marina.
Priced at $6.75M, the townhome is a three-story, all-glass structure with dramatic marina views, spacious terraces and private access. The home features a large open floorplan on the first level, with an entire second level dedicated to the master suite. A third level creates a private living space with access to a roof terrace. Design features include a floating staircase between the three levels, specialized antique wood flooring and a private two-car garage. The master suite has two sets of bathrooms and walk-in closets. The home's designer used premium materials and fixtures throughout the property.
This property is part of the Murano at Portofino condo complex, located at 1000 South Pointe Drive in Miami Beach. The townhome sits adjacent to the condo tower, in a separated structure.
ABOUT ZILBERT REALTY GROUP
Zilbert Realty Group is a real estate brokerage firm that specializes in upscale properties in and around Miami Beach. With annual sales of $165M, the company is one of Miami's fastest-growing luxury real estate brokerages. The firm caters to both local and international customers, and offers services in many different languages. Its professional and licensed real estate sale staff has one of the highest per-agent-average-sales in Miami's real estate industry. It's award-winning website (http://www.zilbert.com) receives over 50,000 visitors each month. The firm will be opening the first Zilbert Realty Store, a retail real estate concept store, in early 2012.
###