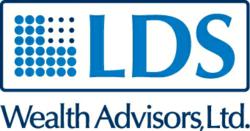 "We have a serious issue emerging in America today, and it's called retirement preparedness,"
Wheaton, IL (PRWEB) November 22, 2011
—LDS Advisors knows that market uncertainty is everywhere; on any given day the front page of the New York Times reflects a growing sense of urgency that in today's economy that a traditional savings plan might not be enough, or maybe it's time to re-evaluate an existing plan as retirement approaches. Armed with over 60 years experience, LDS Wealth Advisors is offering complimentary consultations for individuals nearing retirement.
Traditionally, comfortable retirement was possible through savings accounts, Social Security, and pensions plans. A new and complex marketplace means that being prepared for retirement might not be as simple as it once was.
They have become increasingly subjective to fluctuations in political climate and market uncertainty that have greatly depreciated the effectiveness of these once stable pillars of retirement. Since 2003, the long-term sustainability of Social Security has been called into question. Experts then protected that by 2018 it would be facing budget shortfalls and by 2048 its funds would be exhausted.
In addition to Social Security, defined benefit plans such as pensions, have long been relied upon as an important source of income in retirement. In recent decades, employer-sponsored pensions have largely been replaced by the 401K, which are fully vested in the success of the stock market, which makes them more vulnerable to turbulent trading and bear markets.
"We have a serious issue emerging in America today, and it's called retirement preparedness," added Barry Link, CEO and President of LDS Wealth Advisors.
He suggests three risks every soon-to-be retiree should be aware of when preparing for retirement:

We're living longer. The World Bank indicators show that since 1960, the average life expectancy has gone up on nearly 8 years and is expected to rise steadily over the next decade. The reality is that you're working the same amount of time, but saving for a longer future.
Life is more expensive. The cost of family healthcare coverage has doubled since 2001 alone. Retirees especially are vulnerable to rising healthcare costs and other market fluctuations like inflation and changing tax policies, meaning that you're going to need a well-conceived retirement income plan to help account for these inevitable increases in spending.
It's a dangerous world. The recent uncertainty of the stock market has been a sobering reminder of how short-term volatility can affect retirement portfolios. In a globalized economy, a 401K depends on not just the U.S. economy, but Europe and Asia too. It's a 24-hour gamble for your portfolio.
LDS Wealth Advisors knows a retirees' financial future requires more than luck. Founded on the principles of communication, financial knowledge, planning and integrity, they have been providing individualized and comprehensive advice with a combination of 60 years experience.
For more information, visit http://www.ldswealthadvisors.com
About LDS Wealth Advisors:
LDS Wealth Advisors' mission is to positively impact the lives of its clients by providing personalized, objective financial advice and loyal service. The company is located in Wheaton, Illinois. With more than 60 years of experience between advisory partners, LDS Wealth Advisors thrives at performing extensive, ongoing research on insurance products, money managers, and alternative investment options. Securities are offered through World Equity Group, Inc. Member FINRA/ SIPC. LDS Wealth Management and LDS Wealth Advisors are independently owned and operated.
###