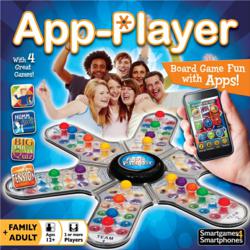 This game really does break the generation gap. Kids love that the App-Player uses their latest gadget whilst parents have a chance to get everyone playing together on Boxing Day.
Gosport, UK (PRWEB UK) 18 November 2011
Cheatwell Games is celebrating its 25th birthday by launching a brand new board game designed for the 'App Generation'. App-Player (RRP £19.99, available from Play; Firebox & Amazon) modernises the traditional family board game by combining a playing board and counters with your iPhone, Android smartphone or iPod Touch.
Cheatwell Games has overcome the frustrating problem of out-of-date quiz cards by creating apps to provide the game questions. Every time the App is opened it checks online to ensure that it is running the latest question set. As well as adding topical questions, Cheatwell will make future titles compatible with the App-Player board with the game growing ever richer as you add new apps to it.
App-Player comes with four great games, jam-packed with more fun challenges than ever before:

Great Trivia – classic quiz game with 1,000's of questions on all your favourite topics and graded to suit all levels of ability
Humm Bug – the original musical humming game - you won't believe how much it's possible to murder a melody!
Masquerade – Cheatwell's very first game! 25 years young, it's the version of Charades that goes way beyond film and book titles!
Tension – This frantic game of top-ten lists is fast and frustrating but great fun for everyone and scored directly on your Smartphone
Jon Church, founder of Cheatwell Games, explains: "We've been making board games since Trivial Pursuit was first launched and the format has moved on. Families still love to sit around a table and play a game together, but many of the console games and individual apps we see keep families from socially playing together. With the App-Player, we feel we've used new technology to bridge this gap and give families the latest quiz questions on anything from the latest football results to the gossip about X Factor."
The apps for App-Player can be downloaded for free from the Android Market at https://market.android.com/developer?pub=Cheatwell and from the AppStore at http://itunes.apple.com/gb/app/app-player-great-big-trivia/id475810341?mt=8
App-Player board game is also available from Cargo, Fenwick, Menkind and Tesco Direct this Christmas.
Notes for editors
To download press ready images please go to https://www.dropbox.com/gallery/21479396/1/Cheatwell?h=d4f84d
The lucrative app market is expected to triple in growth and hit 49.2 Billion annual downloads by 2013 (source: Gartner).
For press enquiries please contact:
Tim Lovell at Dynamo
Tel: +44 7877 809052
Email: tim.lovell(at)dynamopr(dot)com
Twitter: @Tim_Lovell
About Cheatwell Games
Cheatwell Games is celebrating its 25th anniversary this year making games that are sold in retailers across the UK, Germany and US. Starting with just one game originally, the team have grown the range to include hundreds of games, puzzles and Christmas stocking fillers. Cheatwell also have the distribution rights for several Aardman products; Plop Trumps; Pig Poppers and the market leading Artgame 3D bookmark series.
###