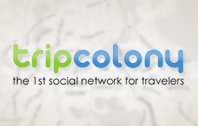 (PRWEB) November 18, 2011
According to Frommers Unlimited November 2011 research reports, social media marketing is at the top of the list for digital marketing budget increases in 2012 for travel companies. Travel companies continue to shift ad spend toward digital channels with 78% of respondents reporting they will increase their digital marketing budgets in 2012; 65% plan on increasing social media advertising budgets as social media continues to grow in popularity.
Social media is revolutionizing the travel industry, allowing people to connect globally, share travel tips, or meet up overseas, and have a more local and authentic experience when they travel. The phenomenon can be seen at work on a grassroots level; Justin Oliphant recently made headlines as he traveled the world through his own and friends' social networks, a project he called "Friend of a Friend." New travel social networks, such as TripColony.com which experienced rapid growth within the first few months of launching, provide like-minded people with the tools to connect with each other, and plan trips accordingly. Due to its expansive growth, TripColony.com hopes to attract ad revenue from travel companies' increased social media marketing budgets in 2012.
TripColony.com is adding a new travel blog feature that will offer users travel tips. Thrilled by the response to TripColony, founder Angelo Brambilla plans to add a premium membership site where users can access travel agencies, and specialized local guides in the near future. However, presently TripColony is free to join.
###