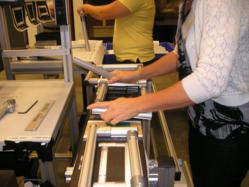 "Very enlightening"
"It was an amazing start"
"It was awesome"
"Highly recommended"
- Comments from students at the Advanced Line Design class in August 2011
Boulder, Colorado (PRWEB) November 17, 2011
One of the world leaders in Lean Manufacturing, Toyota Material Handling USA, will be hosting an advanced training session at its Columbus, Indiana plant on February 14-16, 2012. Presented by the Lean Factory Group, of which Toyota is a member, the course is focused on how to design an optimum production line based on Lean methods. The 3-day event includes a daily tour of the Toyota fork-lift facility, which was voted "Plant of the Year" in 2010 by Plant Engineering Magazine.
How to design a high-performing production line is at the heart of the Toyota Production System and Lean Manufacturing, and yet the method is unclear to many production managers and Lean practitioners. This workshop presents the proven line design methodology in a step-by-step fashion, starting with planning and data collection, and finishing with management guidelines once the line is running. Learning in the classroom is reinforced with both hands-on exercises with real production hardware, and live examples from the Toyota plant itself.
"Lean Manufacturing has become a requirement in most industries today", says Richard Rahn, President of the Lean Factory Group. "Even so, knowledge of how to design a mixed-model production line, one of the most fundamental skills needed by Lean practitioners, is often totally lacking." One indicator of a sub-optimum line design is the excessive need for 'Kaizen' or continuous improvement. Organizations can invest years of effort on 'Kaizen Events' without addressing the root cause of the problem, a poor line design. "Improvement is a core Lean value", says Rahn, "but why not do it right the first time?"
Students learn best by doing, and this Advanced Workshop includes the actual implementation of all of the line design tools in a simulation environment. Participants will design the production environment, and then build a mixed-model product. Once a day participants will also compare what was learned in the classroom to what is actually done at in a high-performing Lean factory. The plant tours will be led by seasoned Toyota experts.
Click here to find out more and to register.
Click here to download PDF flyer.
Dates: February 14-16, 2012
Time: 8:00AM to 5:00PM; lunch included
Location: Toyota Material Handling USA
Columbus, Indiana
Cost: $1,495/person. Early Bird and Group discounts available.
###