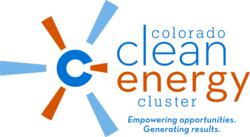 This is an exciting challenge where a number of our strategic initiatives will make a real difference for Colorado.
Fort Collins, Colorado (PRWEB) November 17, 2011
The Colorado Clean Energy Cluster, a leading nonprofit organization focused on attracting and growing clean energy jobs across Colorado, has named Drew Bolin as Chief Executive Officer.
In this newly created role, Mr. Bolin will lead the organization's statewide efforts to expand clean energy business and partnership opportunities, initially focusing on the Colorado Clean Energy Cluster's (CCEC) three main initiatives – FortZED (a Smart Grid ―zero energy district‖), the International Cleantech Network, and a statewide clean energy supply chain initiative in partnership with the Colorado Association for Manufacturing and Technology (CAMT) – when he assumes his new role in January. Mr. Bolin comes to the position with nearly 20 years of experience working on statewide energy, economic development and international business activities, most recently working with the Colorado Cleantech Industry Association (CCIA).
Bolin, a fourth-generation Coloradan, has served as director of Colorado's state energy office (now the Governor's Energy Office) where he was a co-founder of the Colorado Renewable Energy Authority – which led to the creation of the Colorado Collaboratory between the National Renewable Energy Laboratory (NREL), the Colorado School of Mines, Colorado State University and the University of Colorado. Bolin is also a statewide economic development expert and helped recruit cleantech companies to Colorado like Vestas Wind Blades.
"Drew's appointment marks another major milestone for the Cluster. Building on the unique strengths of the CCEC's cross-cutting collaboration of universities, government, and the private sector - exemplified by a ―triple helix – Drew's background and expertise will accelerate the impact of our three main initiatives and allow us to take on additional strategic initiatives as we expand more broadly throughout Colorado." said Chad Preiss, CCEC Board Chair and President of Woodward's Engine System division.
"This is an exciting challenge where a number of our strategic initiatives will make a real difference for Colorado," said Bolin.
ABOUT THE COLORADO CLEAN ENERGY CLUSTER
The CCEC is a not-for-profit economic development organization aimed at boosting job growth across Colorado in the clean energy sphere through formal partnerships between clean energy companies, the public sector, and higher education. Through its actionable initiatives and international collaboration, the CECC is receiving increasing national and international recognition, helping to put Colorado's clean energy companies in a national and international spotlight. For more information, visit http://www.ColoradoCleanEnergy.com.
###