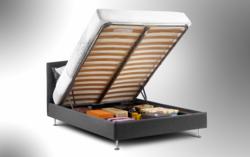 You'd never know it has storage.
(PRWEB UK) 17 November 2011
For five years The Storage Bed Company has given us masses of extra space in our homes by designing and making high quality, beautiful ottoman beds with amazing under-mattress storage.
Now with the brand new Simplicity Air storage bed they've taken things a stage further, by giving you storage space inside the bed and a sense of space around it. Simplicity Air sits on 135mm tall feet, raising it off the ground and creating a spacious and airy feel to the bedroom.
Don't be fooled into thinking there isn't much space inside though. This bed's beautiful looks hide a full 17cm of storage space. That's more than enough to store plenty of shoes, bed linen, toys or what ever takes your fancy.
The Simplicity Air Storage Bed is available in a 7 sizes and a range of Fabrics and finishes including beautiful British leather and solid wood. Prices start at £635.
For more information visit http://www.thestoragebed.co.uk/storage-beds/simplicity-air-storage-bed or contact the Storage Bed Company owner and director David Norman on 0845 2000 128.
# # #